About US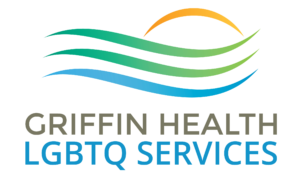 In 2017, Griffin Health established and LGBTQ+ Resource Committee to address the needs of their LGBTQ+ staff, and patients. Currently our committee includes caregivers with varied backgrounds from our medical, behavioral health, spiritual care, administration, and ancillary departments.
The mission of the committee is to review, address and affirm the specific and unique needs of LGBTQ+ individuals we both employ and provide care to each day. Additionally, we strive to promote respectful and culturally sensitive care to the LGBTQ+ community.
Our committee serves as an open employee resource group and we welcome and encourage all staff members, students and trainees to join.
Human Rights Campaign LGBTQ+ Healthcare Equality Leader
Griffin Health was designated as a "Leader in LGBTQ+ Healthcare by the Human Rights Campaign (HRC) Foundation for 2022-2024.
Griffin Health received the maximum score attainable of 100 and the designation of LGBTQ+ Healthcare Equality Leader in The Human Rights Campaign Foundation's 2022-2024 edition of the Healthcare Equality Index, the nation's foremost benchmarking survey of healthcare facilities on policies and practices dedicated to the equitable treatment and inclusion of their LGBTQ+ patients, visitors, and employees.
The Human Rights Campaign is the largest national lesbian, gay, bisexual, transgender, and queer civil rights organization.
Healthcare Equality Leader status is a competitive designation that requires facilities to meet strict criteria in five areas: Non-Discrimination and Staff Training; Patient Services and Support; Employee Benefits and Policies; Patient and Community Engagement; and Responsible Citizenship.
For more information visit: https://www.hrc.org/hei
Take Comfort
Griffin Health wants to provide a safe, inclusive, and welcoming environment to all who walk through our doors. All of our Griffin Health caregivers are here to care and support you.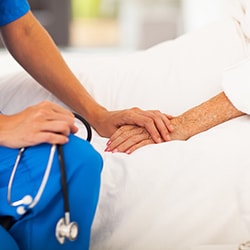 Our Services
Advance Care Planning

Advance Care Planning, or ACP, is the process of coming to understand, reflect on and discuss and plan for a time when you cannot make your own medical decisions. Through effective planning and the use of advance directives, we can help ensure your wishes are respected and honored by your loved ones and your healthcare providers. This process will help you generate quality advance directives which provide you with piece of mind and comfort.When you're ready to start talking about making your wishes known, contact us at 203-732-1255 or acp@griffinhealth.org.

Gender affirming surgeries

A multispecialty team that includes board-certified urologists and surgical specialists located in our community offer a range of feminizing and masculinizing surgical procedures. The goal is to give all gender non-conforming patients the physical appearance and functional abilities of the gender they know themselves to be.

Gender Affirming Hormone Therapy and Monitoring

Griffin Health provides hormone therapy to all adult (aged 18 and older) individuals who want gender-related characteristics to match the gender with which they identify. Our staff will manage the medical therapy and connect you with other providers trained to address any aspect of your physical and mental health goals.

Transgender Patient Advocate Program

Our Transgender Patient Advocate Program aims to ensure that every for trans-identified, gender non-conforming, and gender queer patient at Griffin Health feels respected, supported, and receives the highest quality of care throughout their healthcare journey.

Our program is designed to address the unique healthcare needs and challenges faced by transgender individuals while fostering a safe and welcoming environment for them to access healthcare services.

We prioritize confidentiality and privacy throughout the program. Our Patient Advocates adhere to strict confidentiality guidelines to protect the privacy of our patients.

If you have any questions or would like to learn more, please don't hesitate to contact us at (203) 735-4389.

We look forward to serving you with care, compassion, and respect.

Please note: All individuals, including those of non-conforming gender identities, are welcome to reach out to our Patient Advocate. We use the word "transgender" or "trans" to refer to anyone identifying along, or outside, of the transgender spectrum.

Outpatient Therapy Group

Griffin's Outpatient Psychiatry Department offers members of the LGBTQIA+ community the PRISM group. PRISM stands for "People Respecting Individuality (and) Sexuality in Medicine." This group provides a safe and affirming environment for mutually supportive exploration of various subjects through open discussion, activities and topic-focused modalities.

Click here for more information about Griffin's Outpatient Psychiatry Department.

HIV/STD/STI Testing and Counseling

We provide comprehensive testing for HIV, STDs, and STIs – along with counseling to help you understand what to expect, and how to best move forward after your diagnosis.

PrEP/PEP for patients at risk for HIV

Pre-exposure prophylaxis (or PrEP) may be prescribed for individuals at very high risk of HIV infection. PrEP includes a daily regimen of HIV medicines taken to lower the chances of infection. If you are considering PrEp, we are happy to provide you with a comfortable, safe atmosphere to ask questions and get the care you need.

For more general information on PrEP/PEP, see the CDC PrEP Basics website.

Primary Care

Griffin Faculty Physicians is committed to providing accessible, comprehensive, and compassionate LGBTQ+ Healthcare to all members of the community.

Griffin Health, and Griffin Faculty Physician's goal is to provide high quality health services in a caring atmosphere while maintaining confidentiality and respect for each patient as an individual.

Aloha Initiative

At Griffin Hospital, one of our many Planetree initiatives is to provide every breast surgery patient with a post-operative care package. But Griffin Health offers more than just breast surgery.

As we attempt to move into a healthcare system that is more equitable, we need to be cognizant of individuals who don't exactly fit into the stereotypical male or female prescriptive mold.

To this end, Griffin Health has partnered with BOSOMii to provide "The Aloha Kit" to all transgender, and gender non-conforming surgical patients who have cause for celebrating their new, more authentic body.

In gifting it we are saying, "we see you," "we are here for you," and "we are happy for you."

Each bag contains: Post-op Chest Binder, Body wipes, Dry Shampoo, Package of soothing lozenges, Sun Pillow – to hold over their chest in the car so the seatbelts do not rub against healing incisions or any other time they need a little buffer or positional support; Journal and pen, Handmade, Hot/Cold Pack, Back scratcher, Notes/cards of encouragement, A Worry Doll,Support group/services information, and Other local resources.

Changing Your Name in Connecticut

To obtain a legal name change in Connecticut, an applicant must submit a petition to the Superior Court of their judicial district. No publication is required in Connecticut, and you may be eligible for a waiver for the cost.
Contact Us
For assistance with navigating LGBTQ resources within Griffin Health and the broader community, please contact LGBTQ Patient Navigator Elizabeth Laden at 203-735-4389 or eladen@griffinhealth.org, or Director of Spiritual Care and Education Rev. Eric Jeuland at 203-732-1100 or ejeuland@griffinhealth.org.
Additional Resources on LGBTQ Health Issues