Get Started on a New, Rewarding Career!
The School of Allied Health Careers provides exceptional healthcare education with knowledgeable and experienced teachers who are nationally certified or master's prepared nurses. Students get ample hands-on training in patient care at Griffin Hospital and an extended care facility. Accredited by the Connecticut Department of Higher Education and approved by the State of Connecticut Department of Health, the school offers one-on-one teaching that has helped its graduates achieve a high rate of success on certification tests. Also, the school boasts a strong job placement rate with most graduates quickly finding positions at Griffin or other area hospitals.
Contact Us, and Jumpstart Your Career: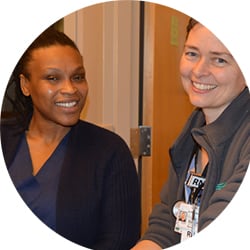 Nikki
"This school was the absolute best! It was very thorough and informative and we learned so much in our time there. The material covered was perfect and the staff is so amazing and supportive."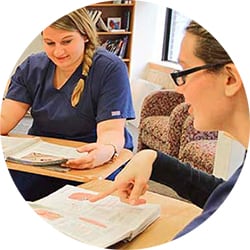 Trina
"BEST INSTRUCTORS EVER!!!!"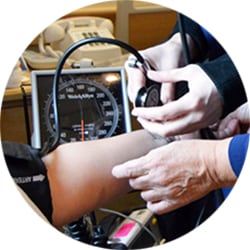 Luke
"Griffin School of Allied Health is the best Phlebotomy program in the state. After looking at multiple schools, I decided I wanted to go to an accredited school that was backed by a hospital."
Admissions:
Thank you for your interest in the Griffin Hospital School of Allied Health Careers!
Our compassionate, dedicated admissions team is here to guide you on your journey toward a rewarding career in healthcare. We are committed to partnering with you to achieve your educational and professional goals.
We look forward to welcoming you to the Griffin Hospital School of Allied Health Careers family, where you'll receive trusted training and an unparalleled experience in real-world healthcare settings, including one of Newsweek's World's Best Hospitals! Click the button below to request an application:
Request an Application or Additional Information
School Loans Available Through
Sallie Mae
"Smart Option Student Loan for Career Training"
Apply With Confidence – Adding A Cosigner May Increase Your Chances For Approval. Quick & Easy Application That Can Cover Up To 100% Of School-Certified Expenses.
Cover School of Allied Health Costs · Online or On-Campus · No Origination Fee · Easy Application Process
Ascent
"Tuition Costs Made Easy" "Flexible Repayment Plan Options" "No Early Payment Fees"
At Ascent, we believe you're more than just a credit score. Ascent gives you more opportunities to pay for Griffin Health: School of Allied Health Careers with or without a cosigner.
Find your best option in 4 simple steps – No application fees.
Practical Nursing Program
Train for immediate career opportunities at the only hospital-based Practical Nurse (PN) program in the state of Connecticut! Griffin Hospital is at the forefront of re-integrating PNs into acute care settings to provide critically needed patient care support due to the shortages of Registered Nurses across the country. Our innovative program combines virtual and in-person classes for greater flexibility and a 14-month schedule. Graduates will be ready to start in acute care settings after receiving invaluable hands-on training and confidence with skills labs, state-of-the-art simulations and the state's only real-world clinical rotations in a hospital-based inpatient nursing unit. Additionally, students can train and receive a Planetree Fellowship in Person-Centered Care certification to bolster their resumes with demonstrated knowledge, experience and leadership in person-centered care. Please call 203-732-7147 to speak to an administrator specifically about the Practical Nursing Program.
To apply click here and download the application; please email completed form to PNProgram@griffinhealth.org
Nursing Assistant (CNA)
Griffin Hospital School of Allied Health Careers now offers an Accelerated Certified Nursing Assistant Program. With a total of 108 hours, you can become a state-certified CNA in just six weeks!
Day and evening classes will be available based on enrollment and interest.
Day classes are available and the first four weeks of the program will be with classroom education and skills Mondays through Thursdays from 9 a.m.-1 p.m.
The final week will include clinical experience at an extended care facility and Griffin Hospital, Monday through Friday from 7 a.m.-3:30 p.m. for the required 40 hours for CNA certification completion.
Course content includes infection control, legal and ethical responsibilities, communications, body mechanics, moving and positioning residents, personal care skills, nutrition, measuring vital signs, and restorative care.
Successful completion of the course and clinical experience qualifies a student to take the state exam for certification as a Nursing Assistant in Connecticut.
Tuition includes the course book, Heart Saver CPR class, and malpractice insurance coverage for clinical rotations.
Current senior in high school or older with a high school diploma or GED may apply for admission.
Patient Care Technician (PCT)
Become a PCT in just 15 weeks!
Patient Care Technician courses are offered three times a year, beginning in January, May, and September.
15-week course (13 weeks of classes, 2 weeks of clinical)
Classes are held Tuesday and Thursday from 9:00 AM – 3:30 PM and Monday and Wednesday

morning section (9:00 AM – 1:30) or
evening section (5:30 PM – 9:00 PM)

Hands-on training
State-of-the-art simulation equipment
Four-week practical rotation at Griffin Hospital (M-F, 7:00 AM – 2:00 PM)
Tuition includes books, malpractice insurance, CPR certification, and national certification exam fee
Eligible to register for CT CNA exam
Upon successful completion of the program, students are eligible to sit for both a national Patient Care Technician exam and a National Phlebotomy Exam.
Phlebotomy
Become a phlebotomist in just 13 weeks!
Phlebotomy courses are held three times a year, beginning in January, May, and September.
13-week course, offered Monday and Wednesday
Day and evening sessions (9 AM – 1:30 PM or 5:30 PM-9 PM)
Hands-on training
32/40-hour externship
Tuition includes books, malpractice insurance, CPR certification and a national certification exam fee.
Certified Clinical Medical Assistant
Become a Certified Medical Assistant in 22 weeks with our NEW Medical Assistant Hybrid offering!
Griffin Hospital's Certified Clinical Medical Assistant training program and

 Medical Assistant Hybrid training programs 

prepares students to become healthcare professionals that specialize in commonly performed procedures. Medical assistants perform both clinical and administrative duties and assist a variety of providers including physicians, nurse practitioners and physician assistants in a variety of settings, including medical offices, clinics, urgent care centers and general medicine or specialty practices. This program also provides the diversity of other job options in the hospital or laboratory settings.
Hands-on training
The Medical Assistant course consists of 600 hours of classroom time held over a period of 24 weeks with an additional 160 hour clinical rotation of 40 hours per week for 4 weeks.
The class will be held Monday through Friday from 9 a.m. to 2:30 p.m. with a 30 minute break each class.
Topics covered in this course include: Medical Terminology; Anatomy/Physiology; Pathology; Pharmacology/CPR/First Aid; Medical Law; Ethics; Patient Communications; Medical Office Keeping; Insurance and Finance; Clinical Procedures; Cardiology and Radiology Procedures; Phlebotomy; and IT/EHR/EMR
Upon successful completion of the program, students will sit for a national clinical medical assistant certification exam , given at the school. Students will also be eligible to sit for the national Phlebotomy Exam , as well as the National Clinical Administrative Medical Assistant Exam.
The clinical externship consists of practical application using skills learned in a clinical setting with a rotation of medical specialties.
Supporters
Funding to help launch the Griffin Hospital School of Allied Health Careers was provided by the following:
The Ferriday Fund Charitable Trust
Questions? Fill out this quick form to find out more: