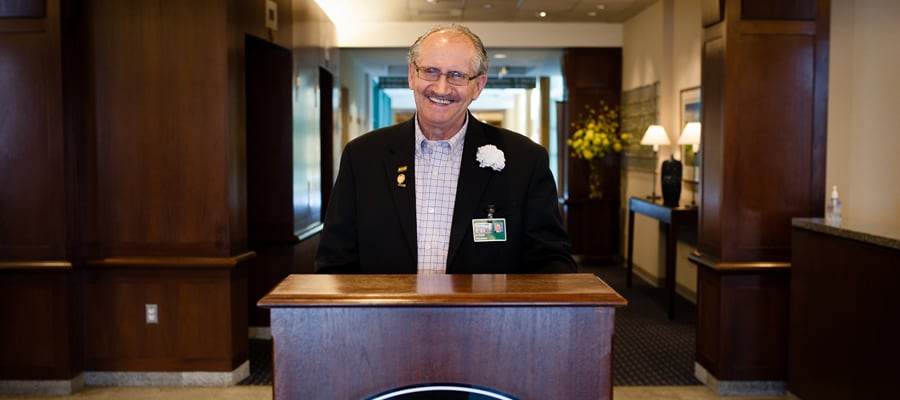 Griffin Hospital is a 160-bed acute care community hospital serving more than 130,000 residents of the Lower Naugatuck Valley Region. Griffin Hospital also serves as the flagship hospital for Planetree, an international leader in patient-centered care and has received national recognition for creating a healthcare facilities and an approach to patient care that is responsive to the needs of patients. Many healthcare organizations around the world send visitors to Griffin Hospital's facilities and incorporate its Planetree concepts into their healthcare models.
A not-for-profit, tax-exempt subsidiary of the Griffin Health Services Corporation, Griffin Hospital is affiliated with the Yale School of Medicine, The Frank H. Netter MD School of Medicine at Quinnipiac University, and accredited by The Joint Commission. Griffin Hospital has more than 300 active and courtesy physicians who have admitting privileges.
Griffin Hospital has received numerous quality and clinical excellence awards, and has been recognized for providing exceptional patient experience. It is the only hospital to be named to FORTUNE Magazine's "100 Best Companies to Work For" list for ten consecutive years, the only Connecticut hospital recognized four times by the Joint Commission as a "Top Quality Performer" on key quality measures, and a recipient of The Leapfrog Group's "A" Grade for Patient Safety for six consecutive periods (Spring 2014, Spring and Fall 2015, Spring and Fall 2016, and Spring 2017).
Mission & Values
Mission

To provide personalized, humanistic, consumer-driven healthcare in a healing environment.
To empower individuals to be actively involved in decisions affecting their care and well-being through access to information and education.
To provide leadership to improve the health of the community served.

Quality and Service

Providing access to information for patients, families and the community on the nature, diagnosis and treatment of medical conditions including the full range of traditional and non-traditional therapies.
Facilitating patients to be informed participants in decisions affecting their care and well- being.
Exceeding the service expectations of patients, families, physicians and other health care providers.
Measuring, monitoring and reporting performance against service and quality standards bench-marked to the best community hospitals.

Respect and Dignity

Embracing patients and families as partners in the care process.
Treating all people with compassion.
Attending to the mind and the spirit as well as the body.
Preserving privacy and confidentiality.
Valuing positive relationships among members of the Griffin Hospital family and fostering an environment of mutual respect and support.

Collaboration

Building and sustaining collaborative working relationships within Griffin Hospital and between Griffin Hospital, other providers and community agencies.

Entrepreneurship and Innovation

Encouraging and recognizing performance leading to the development of "value added" programs and services and improvements in efficiency and effectiveness.

Stewardship

Achieving high productivity by efficient use of resources including people's time.

Remaining true to the mission by allocating resources to purposes directly supportive of the mission.
Being accountable for use of resources at all levels of the organization.
Excellence & Dedication
News Releases
What's new at Griffin Hospital? Stay informed with Griffin Health news and latest press releases.
Governance
History
Over one hundred years of caring for our community.
Careers
Volunteer Opportunities
Volunteers play a vital role in the day-to-day operations of Griffin Hospital, providing assistance to patients, families, and healthcare professionals.
Documents & Publications
Archive of downloadable publications.
Value Care Alliance
The Value Care Alliance (Alliance) is a collaboration among high-quality, cost-efficient Connecticut healthcare systems.
Nondiscrimination Policy
Griffin Hospital provides free aids and services to people with disabilities to communicate effectively with us, and free language services to people whose primary language is not English.
Contact Us
Phone directory of Griffin Hospital departments, centers, and clinical locations.
Giving to Griffin
Philanthropy has become increasingly more important to Griffin Hospital as we expand our services to keep up with our growing community.
Planetree