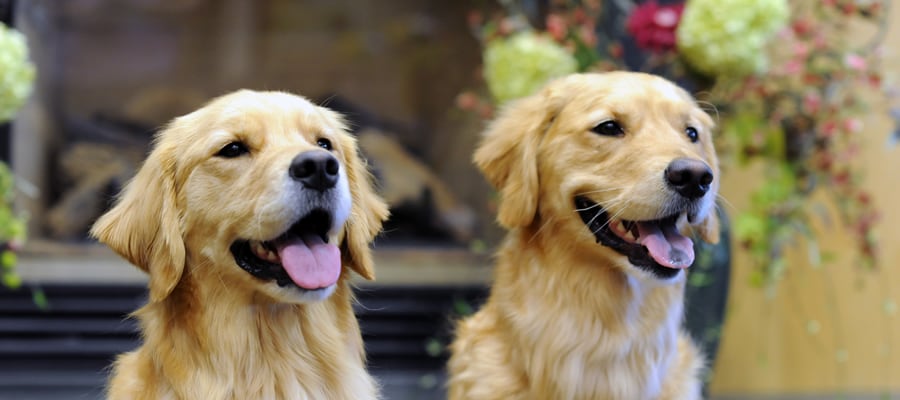 People and Animals Working in Spirit (PAWS)
There's nothing quite like the unconditional love and attention a dog can bring to a human in need. Griffin Hospital is proud to offer PAWS – a therapeutic dog program that helps bring a smile and soothe the soul of both patients and visitors alike.
Griffin Hospital currently has sixteen dogs in it's P.A.W.S. program, ranging from a Toy Poodle to a Great Dane. All the dogs are registered and insured through a Therapy Dog group. Each dog must pass a rigorous behavior and medical screening prior to entry to our program. We welcome all breeds of dogs who qualify for testing for therapy dog work.
Is your dog PAWS-ready?
Griffin Hospital is currently seeking eligible dogs to visit weekdays. Dogs must be tested and registered as therapy dogs if not already certified. Dogs and handlers are tested together as a team. Dogs must be able to walk beside handler on a loose leash, no pulling straining or jumping, MUST get along well with other's dogs and must be able to take direction from their owner/handler. Dogs must be at least one year of age.
For more information on pet therapy programs and specific requirements, contact Ruth Tuccio at rtuccio@griffinhealth.org. If you're interested in volunteer opportunities, please contact the Volunteer Services Department at 203-732-7555.
In Memory of Chelsea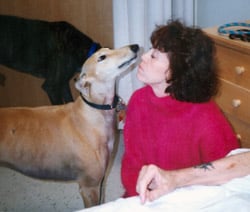 In memory of Chelsea, Griffin's first therapy dog. Chelsea, a retired racing Greyhound, was the first registered Therapy dog to enter our program and she paved the way for the many dogs that followed. Chelsea crossed Rainbow Bridge in February of 2000 but her work is carried on by other wonderful companion animals.