Would you like to volunteer at Griffin?
Download and complete the Volunteer Application and send it to Kathy Browne, Volunteer Program Supervisor, at kbrowne@griffinhealth.org.
Volunteer at Griffin Hospital
We love volunteers. Won't you join us?
Volunteers play a vital role in the day-to-day operations of Griffin Hospital, providing assistance to patients, families and healthcare professionals and helping to make Griffin Hospital a warm and friendly community hospital. Volunteers support Griffin Hospital's mission of providing patient-centered care by offering their gifts of friendship, service, care, and compassion.
In key areas throughout Griffin Hospital and the Center for Cancer Care, our volunteers lend a helping hand to patients, visitors, and staff by providing hospitality services, amenities, and support services. Many of our essential Planetree programs and services would not be possible without the help of our dedicated corps of volunteers.
Fast Facts About Volunteering at Griffin
Our program operates seven days a week
Hours are tailored to accommodate your schedule
Volunteers are asked to commit two hours a week, with a 100-hour annual commitment for adult volunteers and a 50-hour commitment for student volunteers
Opportunities for all interests and abilities
Who is eligible to Volunteer?
Employed or retired, student or homemaker, teenager (age 15 or older) or adult, there are opportunities available to you through our Volunteer Services Program. All volunteers must be comfortable with patients, sensitive to their needs, and possess good interpersonal skills. Volunteer opportunities are not available on a seasonal basis – all of our volunteers are required to come in weekly all year round in order to meet the minimum hourly commitment.
Download the Volunteer Application and send it to Kathy Browne, Volunteer Program Supervisor, at kbrowne@griffinhealth.org.
Volunteer Opportunities at Griffin Hospital
Ambassador Plus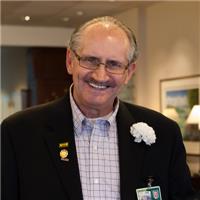 Often the first person our patients and family members meet are our Ambassador Plus volunteers who are positioned in the main hospital and Center for Cancer Care lobbies and in our Emergency Department waiting area.
If you have an outgoing personality, good interpersonal skills, and the ability to escort patients to their destination, either by walking with them or by pushing them in a wheelchair, the Ambassador Plus program is for you! Hear from some of our Ambassadors in this video testimonial.
Bakers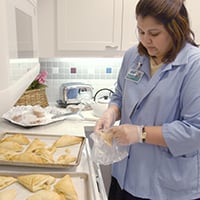 Each day, volunteers bake muffins, brownies, cookies, and bread in kitchens located on Griffin Hospital's patient care units. Our volunteer bakers then deliver their goods to patients, visitors, and staff, distributing the flavors and aromas of home throughout the hospital.
All ingredients and supplies are provided.
Candy Stripers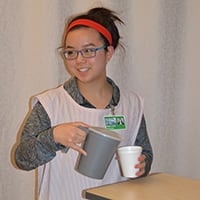 Candy Striper volunteers respond to the special requests of our patients, such as delivery requests for newspapers, DVDs, magazines, books, snacks, gift shop items, or companionship.
Good interpersonal skills, the ability to push our "Planetree Cart" (stocked with amenities) is required.
Courtesy Shuttle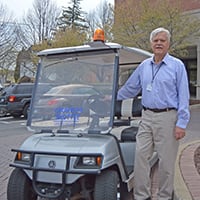 Driving a six-seat golf cart, volunteers transport hospital guests to and from any location in the main parking lot to the front door of the hospital (between April-September). Hear what driving the shuttle means to one of our volunteers here.
Typically working four hour shifts, the volunteer shuttle drivers are encouraged to enjoy a complimentary meal in the hospital cafeteria after they complete their shift. Job qualifications for courtesy shuttle drivers include a stellar driving record, using good judgment and safe driving skills while being courteous to customers. Drivers must be at least 18 years of age.
Hospital Elder Life Program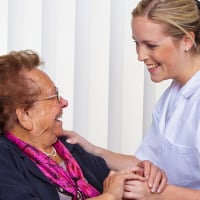 The Hospital Elder Life Program (HELP) is designed to offer special services to older adults while hospitalized at Griffin Hospital.
HELP is an evidence-based quality improvement program whose purpose is to prevent older patients from experiencing a decline in both their physical and mental health during their hospital stay. HELP provides personalized care for seniors in an effort to maintain and support their optimal level of independence.
Whether you are employed or retired, a student or homemaker, teenager or adult. Minimum commitment of 4 hours per week for 6 months. Volunteers must be comfortable with patients, sensitive to their needs, and possess good interpersonal skills.
PAWS Therapy Dog Program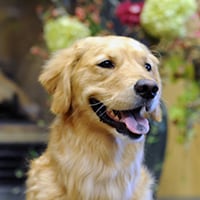 Griffin Hospital is proud to offer People and Animals Working in Spirit (PAWS) – a therapeutic dog program that helps bring a smile and soothe the soul of both patients and visitors alike.
Griffin Hospital currently has sixteen dogs in it's PAWS program, ranging from a Toy Poodle to a Great Dane. All the dogs are registered and insured through a Therapy Dog group. Each dog must pass a rigorous behavior and medical screening prior to entry to our program. We welcome all breeds of dogs who qualify for testing for therapy dog work.
Soft Touch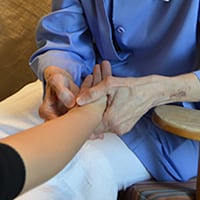 Volunteers wishing to provide hands-on care to patients will enjoy this opportunity – click here to listen to one person's account of providing complementary therapies. In addition to conversing and providing a friendly visit, you will be trained to give a therapeutic, relaxing, and gentle rub either to the hands or feet of our patients.
Vital Patient Stories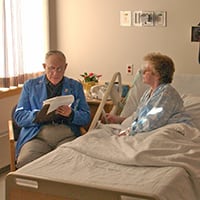 If you are a good listener, have a flair with the pen, and compassion in your heart, this is the volunteer opportunity for you! You will be taught interviewing and writing skills to compose creative non-fiction accounts of patients' life stories.
In addition to good listening skills, empathy, and compassion, volunteers must maintain patient confidentiality. See more in this Vital Patient Stories volunteer's testimonial.