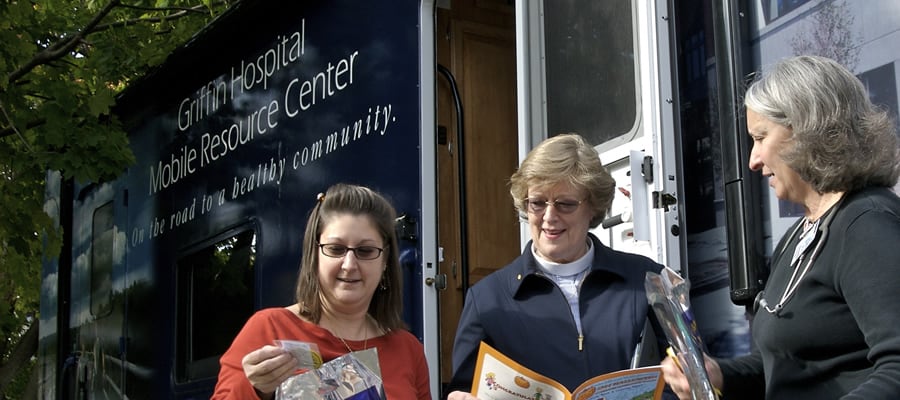 Parish nurses are persons of faith who are experienced registered nurses, and who have received special education in holistic health care. They have skills in teaching and health counseling as well as knowledge of community resources. The Valley Parish Nurses serve as coordinators between the clergy, parish and resources in the community, such as hospitals and other social service agencies.
Our Parish Nurse program also serves as the hub of many of Griffin Hospital's outreach activities, including fitting bike helmets, training adults and children in CPR, and providing health education and information at senior centers, shopping centers, neighborhoods, companies, and community events and fairs.
Why a Parish Nurse Program?
Having a qualified, registered nurse on the parish staff can enhance the Church's efforts to integrate Whole Person Health into its congregation. The parish nurse can assist those in need of healing and convey the parish's concerns for its parishioners.
The Role of a Parish Nurse
Health Educator: Using health screenings, discussion groups, classes and other events to help the congregation recognize the interrelationship of mind, body and spirit.
Health Counselor: Being available for personal consultations along with home, hospital and nursing home visits.
Facilitator/Organizer: Recruiting and coordinating volunteers and support groups within the congregation.
Referral Source: Acting as a liaison to community and religious resources and services.
Qualifications of a Parish Nurse
Registered Nurse currently licensed in the State of Connecticut
Three years nursing experience
Knowledge of the sacramental and spiritual life of the Church
Experience in teaching and health counseling
Knowledge and practice of holistic health philosophy
Ability to work with highly diverse types of individuals and groups
Sincere, outgoing and empathetic
Self-motivated, requiring little or no supervision
To Learn More
Call Community Outreach & Valley Parish Nurse Program at (203) 732-7584.