Order your Prescription Refill
Save Time and Money on Prescriptions
Did you know? 31% of prescriptions are never filled? And 50% of all chronic disease medications are not taken as prescribed!
Keeping you healthy is our priority. So, we're finding ways to improve that industry trend. Ask your doctor to have your prescription ready for you to pick up at Griffin Pharmacy & Gifts.
Griffin Pharmacy & Gifts is your on-site, convenient Prescription Center for all of your medication needs. In addition to serving the needs of our community and hospital staff, we are here for our patients from the Emergency Department, Ambulatory Surgery Suite and those being discharged – all in a timely, professional manner.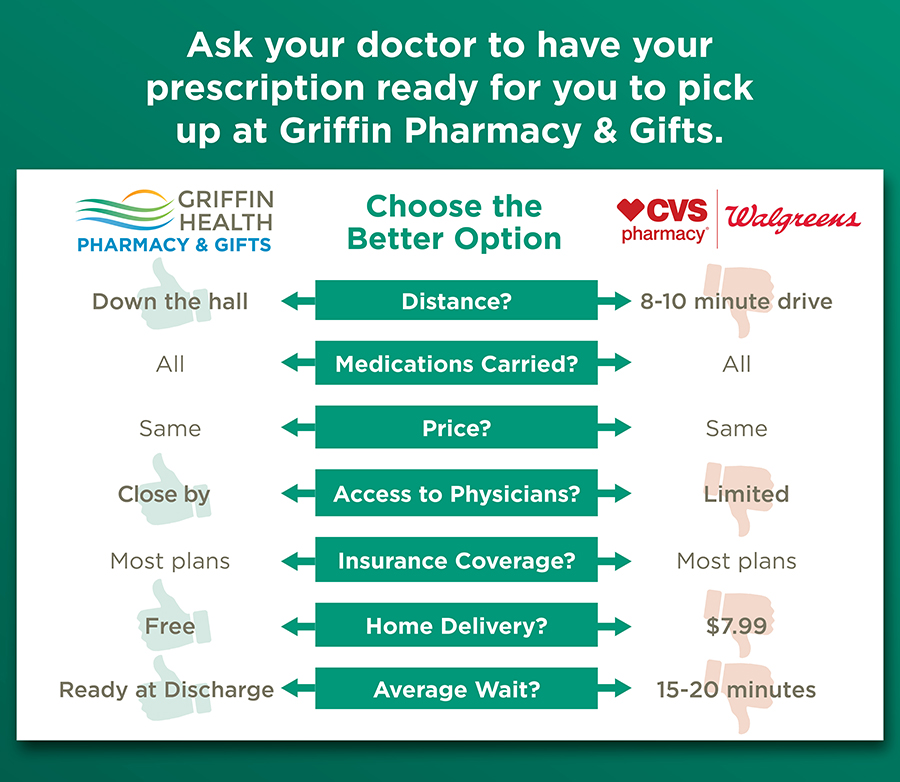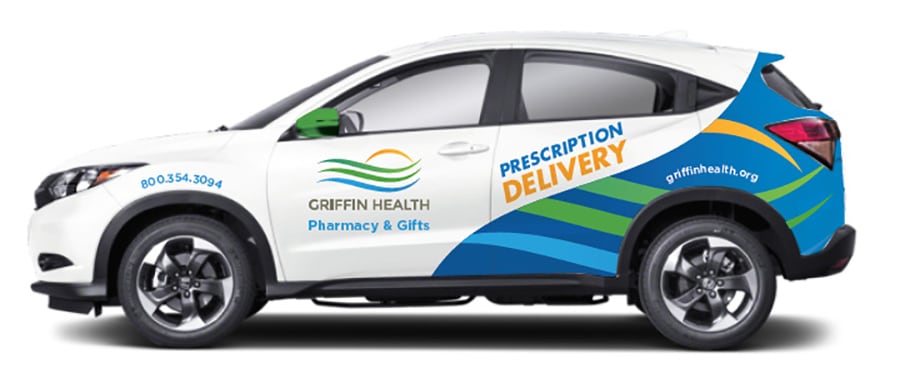 Free prescription delivery service is available. Major credit cards are accepted
Most insurance plans are accepted. View a listing of insurance plans we accept.
Customer Rewards Program
Start earning your $25 coupon today! Our frequent shopper program rewards points for your purchases. When you reach 250 points, you will receive a $25 coupon that may be redeemed at either Griffin Pharmacy & Gifts, OR the Boutique at The Center for Cancer Care at Griffin Hospital.
Sign up today!
*Some exclusions apply. Please see store(s) for details.
Gift Shop
While we carry the standard fresh flower assortment, jewelry, snacks and greeting cards, shoppers will also find unique gift items as well. Many folks look forward to shopping while their prescriptions are being filled!
Your pets are family, too! We offer pet products at competitive prices: Probiotics, pain relievers, joint support, flea and tick control, treats and more!
Order your Prescription Refill
Location
Griffin Pharmacy & Gifts
(203) 732-1490
gpg@griffinhealth.org
Monday – Friday
9:00 AM – 7:00 PM
Saturday
9:00 AM – 3:00 PM
Griffin Hospital
130 Division St.
Derby, CT 06418-1326