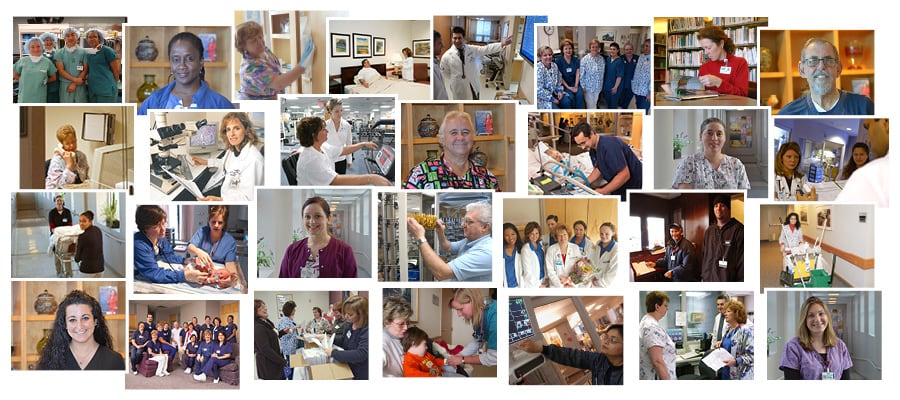 Employee Benefits
As an employee of Griffin Hospital, you will have access to comprehensive benefits that are both competitive and affordable. Benefits are offered to regular full time and part time employees. Griffin Hospital offers a variety of health benefits, including medical, prescriptions, vision, dental, flex spending, life insurance, long term disability, health & wellness, financial well-being, employee recognition, and other great benefits.
Explore our benefits below and you'll understand why Griffin Hospital is a great place to work.
Health Benefits
Medical Insurance
Medical insurance and prescription drug coverage with discounted rates contingent on participating in our Wellness Program. A cash-back option is offered for opting out of medical insurance.
Vision Insurance
Coverage for eye exams, eyeglasses, and contact lenses. Vision insurance is included at no-cost when Medical Insurance is elected.
Dental Insurance
Two dental plans; one of which has orthodontia coverage with no age limit and TMJ appliance coverage.
Flexible Spending Accounts
Pre-tax Flexible Spending Accounts for both healthcare and dependent care expenses.
Term Life Insurance and AD&D Coverage
Term Life Insurance & AD&D Coverage offered at no cost. The benefit is equal to one & one-half annual pay up to a maximum of $350,000.
Supplemental Life Insurance Coverage
Supplemental Life Insurance coverage available to purchase at group rates up to a maximum of $650,000.
Long-Term Disability Insurance
Income Protection (60% of base pay) with a 6-month elimination period
Wellness Benefits
Fitness Center
Full service fitness center located on-site, at no charge for employees.
Group Exercise Programs
Free on-site group exercise programs including Piloxing, Yogalates, Circuit Training, and Personal Training.
Massage
Free chair massages & discounted full-body massages
Employee Wellness Program
Griffin Hospital is committed to helping employees and their family live a healthier lifestyle and achieve improved well-being. Our state of the art Wellness Program helps you get healthy and stay healthy. Employee discounted medical insurance rates are contingent upon participation in the Wellness Program.
Healthy Food Options
Healthy food options in the onsite cafeteria, healthy options in the vending machine and at employee meetings. Seasonal on-site Farmer's Market with fresh produce available to purchase.
Discounted Gym Membership
Full gym membership at The Edge Fitness Clubs at discounted group rates for employees and their family members
Employee Assistance Program
Griffin Hospital offers an Employee Assistance Program (EAP) to help employees better cope with issues that impact quality of life and work performance.
Health resource Center
Free lending library that provides an array of medical and health information open to employees and the community.
Community Health and Wellness Resources
Wellness programs and classes, community outreach programs, support groups and programs, and health screenings
Financial Well-being
Pre-tax Retirement Savings Plan
Griffin Hospital offers employees a Pre-tax Retirement Savings Plan to help you save for retirement.
Defined Benefit Plan
Employer funded defined benefit plan with vesting after five credited years of service. The benefit is payable at age 65 with an early retirement option starting at age 55 with at least 15 credited years of service.
On-site Federal Credit Union
For your convenience, Griffin Hospital offers an on-site Federal Credit Union to help you with your banking needs.
Recognition
Employee and Department Recognition
Monthly I.T.I.P. (I Take It Personally) celebrations where employees of the month and departments of the quarter are recognized.
Service Awards Dinner
Annual service awards dinner recognizing employees with 5 or more years of service as well as employees of the month and departments of the quarter. The employee and department of the year are both recognized.
Success Rewards
Quarterly Bonus
Other Great Benefits
Paid Vacation, Holiday, & Sick Time
On-site cafeteria with employee discount
Free Parking
Tuition Assistance
Retail Pharmacy & Gift Shop
On-site gift vendors
Discounts on Verizon cell phone service and local businesses