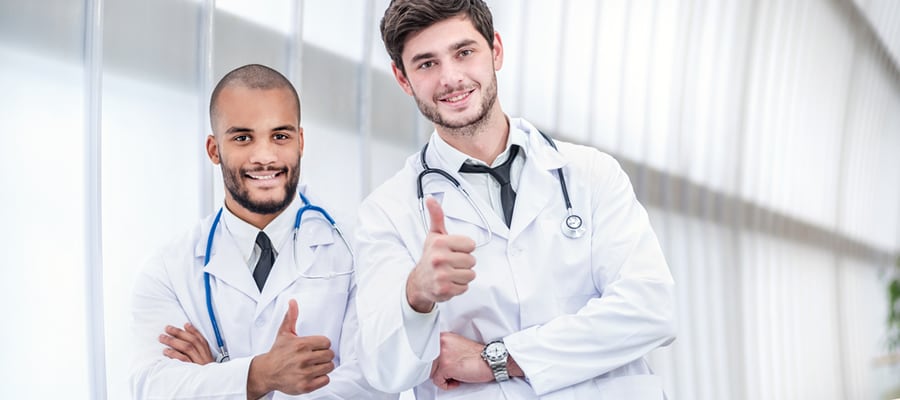 In recognition of our ongoing achievements in excellence.
In our desire to provide the highest quality of care, Griffin Hospital seeks accreditation from professional organizations, academic associations and consumer advocates. The following accreditations are an achievement for Griffin and acknowledge that we are following the best recommended practices in the healthcare industry.
Bariatric Program
Metabolic and Bariatric Surgery Accreditation and Quality Improvement Program
Griffin Bariatrics has been recognized for meeting the highest standards for patient safety and quality of care and is recommended as a high-quality choice for patients seeking surgical treatment for severe obesity and its related conditions. The Metabolic and Bariatric Surgery Accreditation and Quality Improvement Program (MBSAQIP), a joint program of the American College of Surgeons (ACS) and the American Society for Metabolic and Bariatric Surgery (ASMBS), has accredited Griffin Bariatrics as a Center of Excellence for bariatric surgical methods, including gastric banding, gastric bypass and gastric sleeve.
The Joint Commission
Griffin Hospital has been accredited by the Joint Commission on the Accreditation of Healthcare Organizations (JCAHO) for more than 50 years. The Joint Commission is considered one of the top standards in healthcare and is a voluntarily accreditation for participants. Accreditation standards relate to organizational quality of care issues and the safety of the environment in which care is provided. During the site visit, surveyors review over 700 standards for quality of care, safety and service performance.
Cancer Program
The Commission on Cancer (American College of Surgeons)
The cancer program at Griffin Hospital has been granted a three year approval by The Commission on Cancer of the American College of Surgeons. Established by the American College of Surgeons in 1932, the Approvals Program sets standards for cancer programs and reviews the programs to make sure they conform to those standards. Approval by the Commission on Cancer is given only to those facilities that have voluntarily committed to provide the best in diagnosis and treatment of cancer and to undergo a rigorous evaluation process and a review of its performance. In order to maintain approval, facilities with an approved cancer program must undergo an on site review every three years. Slightly more than one-fifth of the nation's hospitals have approved cancer programs, and more than 80 percent of patients who are newly diagnosed with cancer are treated in these facilities.
Clinical Laboratory
CAP (College of American Pathologists)
The goal of the CAP Laboratory Accreditation Program is to improve the quality of clinical laboratory services through voluntary participation, professional peer review, education and compliance with established performance standards. Upon successful completion of the inspection process, the laboratory is awarded CAP accreditation and becomes part of an exclusive group of more than 6,000 laboratories worldwide that have met the highest standards of excellence.
Pulmonary Laboratory
CAP (College of American Pathologists)
Radiology Department
Respiratory Services
AARC (American Association for Respiratory Care)
The AARC's Quality Respiratory Care Program recognizes hospitals that adhered to the following standards:

All respiratory therapists employed by the hospital to deliver bedside respiratory care services are either legally recognized by the state as competent to provide respiratory care services or hold the CRT or RRT credential.
Respiratory therapists are available 24 hours.
Other personnel qualified to perform specific respiratory procedures and the amount of supervision required for personnel to carry out specific procedures must be designated in writing.
A doctor of medicine or osteopathy is designated as medical director of respiratory care services.