These easy and delicious detox recipes will help you kickoff 2023 feeling healthy, refreshed, and ready to conquer the new year!
A healthy body requires vitamins, minerals and amino acids to operate on a daily basis. All of these superstar foods help your body's natural detoxification pathways in a gentle way. Think of it as maintenance care for the liver, kidneys, and digestive tract. With these detox recipes, you'll be eating clean nutritious foods which support your body's natural detoxification pathways.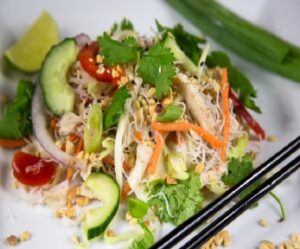 THAI CHICKEN SALAD
SERVES 1
INGREDIENTS
1 cup purple cabbage, shredded
1 cup green cabbage, shredded
1 red bell pepper, cut into thin strips
1/2 cup cilantro, chopped
2 tbsp cashews, chopped
6 oz shredded chicken or other leftover protein
Dressing
1⁄4 cup fresh lime juice
3 tbsp fish sauce
1 tbsp honey
2 tsp garlic, minced
INSTRUCTIONS
Whisk together dressing ingredients and set aside.
Assemble all salad ingredients in a large bowl. Toss salad with the dressing, then top with cashews and shredded chicken.
SUPER DETOX INGREDIENTS:
Cabbage: A sulfur-rich, cruciferous veggie. It helps your liver break down toxins so
they can be more easily expelled. It also has diuretic properties to help rid your body of excess fluid, which carries toxins out with it.
Red bell pepper: Only the red bell peppers are the super-star cleansing pepper. That's
because they are loaded with 3 times the vitamin C of other veggies.
Cilantro: A heavy metal chelator, which means it binds to the heavy metals in your
body and helps get them out of the tissue. Cilantro also supports efficient digestion, by
helping to produce digestive enzymes that aid in the breakdown of foods.
NUTRITIONAL INFO (PER ONE SERVING):
Calories: 466; Carbs; 38g; Fat 10g; Protein 45g; and Sugar 22mg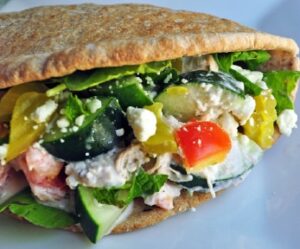 MEDITERRANEAN BREAKFAST SANDWICH
SERVES 4
INGREDIENTS
1 small eggplant, stemmed and chopped into 1" cubes
1 small red bell pepper, stemmed, seeded, and chopped
3 tablespoons extra-virgin olive oil
Sea salt & Freshly ground black pepper
1 small garlic clove, finely grated
2 Persian cucumbers, thinly sliced into half-moons
12 cherry tomatoes, halved
1 tablespoon fresh mint leaves, finely chopped
1 tablespoon lemon juice
1 cup finely shredded red cabbage
4 whole-wheat pitas, toasted
1 cup creamy hummus
4 hard-boiled eggs, thinly sliced
1⁄2 cup parsley leaves, roughly chopped
INSTRUCTIONS
Preheat oven to 425 degrees F. On a baking sheet, toss the eggplant and bell pepper with 2 tablespoons olive oil, salt, and pepper. Roast about 25 minutes, or until tender and golden.
Remove from oven and toss with grated garlic.
In a small bowl, combine the cucumbers, tomatoes, mint, lemon juice, and 1 tablespoon olive oil. Season with 1⁄2 teaspoon salt.
In another small bowl, season the cabbage with salt and pepper.
Stuff each pita with 1⁄4 cup hummus, eggplant–bell pepper mixture, tomato-cucumber salad, cabbage, egg slices, and parsley.
SUPER DETOX INGREDIENTS:
Cucumbers: Made from over 90% water, cucumbers help aid detoxification by flushing out water soluble toxins and keeping the bowls running smoothly.
Eggs: A complete protein, meaning they contain all of the amino acids.
Whole Wheat Pita: Promotes healthy gut functioning and stimulates the excretion of the bile made by the liver.
NUTRITIONAL INFO (PER ONE SERVING):
Calories: 497; Carbs: 49g; Fat: 27g; Protein: 18g; Sodium; 534mg; and Sugar: 8.7g