Joint Replacement Surgery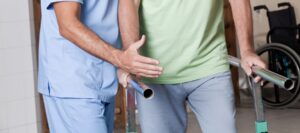 Thank you for considering The Joint Replacement Center at Griffin Hospital.  Below is some of the most frequently asked questions about our Joint Replacement program.
Preparation for Joint Replacement Surgery
Before Surgery
Prior to surgery, you will have a pre-op interview at Griffin Hospital with a registered nurse who will review your health history and provide information about what to expect the day of surgery. You will also meet with the anesthesiologist who will explain anesthesia and discuss pain management options. Please bring a list of any medications you are currently taking (including over the counter medications and supplements) with correct dosage and any allergies you may have. Some additional testing including blood work may be done at this time.
During your Pre-op orientation & education class, you will be given a patient Guide Book. This book contains important information about preparing for surgery, post-operative care, and will contain records of appointments and progress.
Prior to surgery, you should expect to make appointments for the following:
Surgery
Pre-op physical exam
Medical clearance (if applicable)
Pre-op interview
Pre-op orientation & education class
Pre-op physical therapy & discharge planning evaluation
Important:  Please remember – nothing to eat or drink (including gum) after midnight the day of your procedure.
FAQ
Should I consider joint replacement surgery?

Typical candidates for joint replacement surgery are individuals with chronic joint pain from arthritis that severely diminishes their ability to perform normal daily activities. This often leads to a loss of independence, enjoyment, and self esteem.

How can joint replacement help me?

Joint replacement can relieve pain and help you move and feel better. A replacement joint can make a big difference in your ability to return to work and other activities that you enjoy.

What is a care partner?

A Care Partner is someone who works with you every step of the way during your pre and post-op care. Your Care Partner can be a spouse, family member, or friend.  Your Care Partner needs to be someone who can accompany you to the hospital on the day of admission, assist you with your pre and post care exercises, accompany you to group therapy sessions, and be available to help you once you return home.

Before your discharge and along with you, your Care Partner will learn:

What Coumadin is
Who monitors your Coumadin therapy and prescribes the dose
How to change your dressing
Signs and symptoms of infection
How to put on TED stockings
How often the stockings should be removed and for how long
How to assist you in and out of bed
Your home exercise program
How to assist you up and down stairs

Will I need to use a walker or cane following the surgery?

Most patients will use a walker for about two weeks and then a cane for two to four weeks. A member of your care team can help you get the medical equipment you need.

Will I need help at home following the surgery?

Maybe. Most patients that follow their pre-operative physical therapy are able to function well at home without much assistance. However, our program is designed for the patients who have an assistant or Care Partner to help them at home.

For the first several days or weeks, depending on your progress, you will benefit from someone to assist you with meal preparation, etc. Your case manager will arrange for a home health care nurse to come to your house as needed.

Preparing ahead of time, before your surgery, can minimize the amount of help needed. Having the laundry done, house cleaned, yard work completed, clean linens on the bed, and single portion frozen meals will reduce your need for extra help.

Where will I go after discharge from the hospital?

Many patients are able to go directly home following discharge. Some patients may have to transfer to a rehabilitation facility (often called a rehab or sub-acute facility). You, the orthopedic team and your insurance company will influence this decision. You should check with your insurance company to see if you have sub-acute rehab benefits.

How long will I be in the hospital?

Most patients are hospitalized for three to four days following hip replacement surgery.

How long will my joint replacement last and can a second replacement be done?

Your replacement joint can be affected by your age, weight, activity level and medical conditions. Replacement joints have a limited life expectancy and we expect most implants to last more than 15 – 20 years. Implant life expectancy cannot be guaranteed and 10 – 15 percent may not last as long as expected.

Additional surgery is usually possible, but is determined by your personal circumstances.

Am I too old for joint replacement surgery?

If you are in reasonably good health and have a desire to continue living a productive and active life, your age should not disqualify you from joint replacement surgery. You may be asked to consult your primary care physician for an opinion about your general health and readiness for surgery.

How do I find out if I should have joint replacement surgery?

Your orthopedic surgeon will determine if you are a good candidate for joint replacement surgery based on your history, physical exam, x-rays, and response to more conservative treatment.

Only you can decide if joint replacement surgery is right for you.

How long before I can drive and return to normal activity?

To drive safely, you will need to discontinue all narcotic pain medications and no longer require a walker. Most patients attain this goal within four weeks.

Recovery time is different for everyone and largely depends on your physical condition prior to surgery and your activities after surgery. Total Joint Replacement patients generally recover quickly with a typical hospital stay of three to four days. Our rapid recovery process allows most patients to return to their typical activities in just six to eight weeks. Your care team will provide you and your Care Partner with the support you need to achieve a full and rapid recovery.

Will I need any medical equipment at home?

After joint replacement surgery, you will need a high toilet seat for about three months. We can arrange to have one delivered to you, or you may rent or borrow one. You will also be taught to use assistive devices to help you with lower body dressing and bathing. Your physical therapist can help you decide if you will also benefit from a bath seat or grab bars in the bathroom.

Will I need physical therapy after I go home?

Yes. You will typically have home physical therapy for about one to two weeks. You should then utilize outpatient physical therapy as soon as possible. Your in-patient physical therapist will help you make arrangements for outpatient physical therapy. The amount of physical therapy needed varies with each patient.

When will I be able to return to work?

We generally recommend taking at least one month off from work, but your physician can advise you based on your personal circumstances.

What if I live alone?

Most patients leave the hospital independent enough to function at home without much assistance.

If you are frail or ill, two other options are available:

You may elect to stay at a sub-acute facility following your hospital stay if covered by your insurance.
Arrangements can be made for a home health nurse and/or a home physical therapist to assist you at home. If possible, you should still have your Care Partner, relative, or friend stay with you for at least a week after discharge because the home health nurse and physical therapist are with you for only a short time per day.

For times that a caregiver is not able to be with you at home, you may want to consider a subscription to our LIFELINE emergency medical alert system