Low-Vision Therapy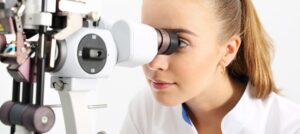 The Lions Low Vision Centers of Fairfield and New Haven Counties was established in 1990 by the Lions Club to provide rehabilitation services to individuals with visual disabilities and handicaps.
Maximizing low vision through adaptation
What is Low Vision?

Low vision is a chronic medical condition affecting 1 in 6 adults over 45 years of age. Two thirds of persons with low vision are over 65 years of age. Three eye diseases account for the majority of low vision in older adults: macular degeneration; diabetic retinopathy; and glaucoma. These diseases increase in incidence as a person ages, and result in permanent visual impairment.

The Risks of Low Vision

Persons with low vision have a visual impairment which limits their ability to complete many necessary daily living activities, but allows some usable vision. Individuals with low vision are not blind — they have difficulty using their remaining vision efficiently and effectively enough to complete needed activities. They experience difficulty performing many basic activities of daily living including grooming, meal preparation, financial management and shopping.

Most importantly, a person with low vision's safety is often at risk. They report difficulty using knives to chop and slice foods, difficulty accurately judging depth on stairs and curbs, difficulty accurately monitoring glucose levels and identifying medications, difficulty accurately dialing emergency telephone numbers such as 911, difficulty identifying spoiled foods, dials on stoves and water spilled on floors. Visual impairment has been identified as one of the primary contributes to falls among the elderly.

Despite these many difficulties, the majority of older adults with low vision remain in their own homes and most live alone with only minimal outside assistance.
How can Occupational Therapy Services Help?
Occupational therapy enables persons with visual impairment to safely and independently complete the daily living tasks compromised by their vision loss by:
Teaching the person to use their remaining vision as efficiently as possible to complete activities;
Modifying activities so that they can be completed with less vision; and
Training the person in use of adaptive equipment to compensate for vision loss.
Please note: Griffin Health Occupational Therapy does not provide and eye examination or evaluation and does not provide eye glasses or contacts.
Discover the Griffin Difference.
Our Rehabilitation and Physical Therapy patients enjoy these benefits while under our care:
One-on-one care in private treatment rooms
Convenient location with ample free parking and valet service
Our recently renovated fitness center includes the latest equipment for aerobic and strengthening programs
Participation in most insurance plans, including Medicaid Financial Assistance
Training is completed in the Griffin Hospital Low Vision Clinic. The number of therapy sessions required to achieve the functional goals established for the client ranges between 4 to 10 with an average of 6 sessions to achieve all goals. Griffin Hospital's partnership with the International Lions Club allows us to offer adaptive devices to our clients free of charge. These specific magnifiers are prescribed by opthamologists and optomotrists with their prescription for an Occupational Therapy Low Vision Evaluation.
Griffin Health Occupational Therapy is a billable service with possible co-pays and or deductibles based on insurance coverage.
Candidates for Service
To qualify for Lions Low Vision Services you will need to:
Visit your eye care professional within the last month, and
Obtain a prescription for a low vision evaluation
Presciption Instructions
How to get started:
Download the attached Griffin Health Low Vision Referral Form.
Have your Eye Care Professional fill it out.
FAX this prescription form to 203-732-7390 or bring it to your first appointment (must be 30 within 30 days of the prescription date).
Call (203) 732-7445 to arrange for an appointment. Be sure to bring the prescription for a low vision evaluation written by your eye care professional, and any eyeglasses, magnifiers or other devices you currently use. You will be asked to provide contact information for yourself and your eye care professional for statistical reporting purposes and if you would like to receive monthly announcements for Lions Low Vision Support Group Meetings in your area.
Meet our Low Vision Specialist
Leslie Prescott, MS, OTR/L, SCLV


Leslie Prescott is an Occupational Therapist with extensive clinical experience working with inpatient hospital acute care, outpatient hospital rehabilitation and outpatient low vision rehabilitation. Leslie has been practicing occupational therapy since 2006. She obtained a Graduate Certificate in Low Vision Rehabilitation from the University of Alabama at Birmingham (UAB) in 2018 and is currently completing a Clinical Doctorate in Occupational Therapy at UAB. Leslie has earned an AOTA Specialty Certification in Low Vision (SCLV) and is specializing in low vision rehabilitation at Griffin Hospital Lions Low Vision Program.
Related Pages: