Weight Management Exercise & Fitness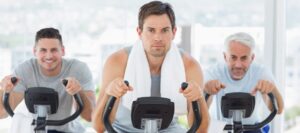 Exercise & Fitness for Weight Management
The Weight Management Exercise Program is an exercise physiologist-supervised, progressive exercise program that promotes sustainable weight management. The program begins with a full fitness evaluation to help determine baseline fitness level as well as a biometric screening. An individualized exercise program will be developed for you to help in the process of weight loss, gain or maintenance and will include both cardio and resistance exercises.
Exercise Physiologist Supervised
Griffin's exercise program will help you set goals, learn proper use of equipment, stay motivated as you work towards your goals, and support your ongoing efforts to maintain your desired weight.
Our Gym & Weight Management Facility
Our state-of-the-art exercise facility offers you and like-minded exercisers a clean and spacious environment. Working out with others who are on a weight loss journey creates a true sense of camaraderie and a no-judgment zone. Valet parking is available.
Program Hours
Monday: 4-7 p.m.
Tuesday: 7:30 a.m.-12 p.m./1-5:30 p.m.
Wednesday: 4-7 p.m.
Thursday: 4-7 p.m.
Friday: 7:30 a.m.-12 p.m./1-5:30 p.m.
Program Cost
The weight loss program cost is $50 per month.
Save $50! First time enrollment for 3 months is just $100!
Cost includes an initial assessment and personalized program designed by Exercise Physiologist based on your individual fitness level and abilities.
Enrollment
Signing up is easy, however, you must have a physician referral. Call 203-732-7106 and we can start the process or print out the referral form and take it to your physician. Fax completed forms to 203-732-1418.
Referring Physicians
Please print the referral form: complete it, sign it and fax it to 203-732-1418.
By referring your patients to this program, you are helping them take the first step to becoming healthier and gaining control of their weight. Exercise physiologists create an exercise program that is specifically designed for each individual and instructs how to properly use equipment.
The program is limited to those that are trying to lose weight, which creates a supportive, non-judgmental environment.