CT (Computed Tomography)
Low-dose with high accuracy.
One of the latest technological advances that Griffin Hospital has obtained is the GE Optima 660i 128 slice Computed Tomography (CT) system. This equipment provides rapidly acquired, highly detailed images of the human body. This scanner's speed has reduced the length of time that patients spend on the CT scanner without compromising overall image quality.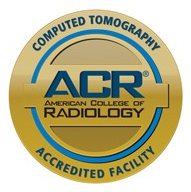 The GE Optima 660i 128 slice CT scanner allows for the capture of multiple wafer-thin images of human anatomy within seconds while also providing exceptionally high-resolution images. This technology helps Radiologists to diagnose medical conditions with more accuracy than ever before possible.
The CT suite, with its own private waiting area, is staffed with a team of highly trained, board certified, state licensed technologists who are there to make your CT experience as comfortable as possible.
Our technical staff of CT professionals possess in-depth knowledge of CT imaging, and a commitment to provide exceptional service. This dedication and commitment speaks volumes toward our continued service to our patients and referring physicians.
The CT Department offers several amenities to patients that demonstrate Griffin Hospital's commitment to the Planetree Model of Care:
As an added convenience, the Pharmacy Coordinator will arrange for oral contrast to be delivered to patients' homes, as requested. To take advantage of the complimentary Oral Contrast Delivery Program, contact Central Scheduling 24 hours prior to your appointment by calling (203) 732-7101. This program is only offered Monday through Friday, and is available to Valley residents (Ansonia, Derby, Seymour, Oxford, Beacon Falls, and Shelton).
Complimentary valet parking is offered to all outpatients who use Griffin Hospital's Diagnostic Imaging Services. This program is offered Monday through Friday.
Routine outpatient appointments are available in the evening as well as on the weekends. Appointments are scheduled through the Central Scheduling Department at (203) 732-7101.
CT Scan FAQs
How do I prepare for a CT Scan?

No special preparation is necessary unless your healthcare provider gives you special instructions. For example, if you are having a CT scan of your abdomen or pelvis, you should not eat solid food for several hours before the scan. You may be instructed to drink a contrast liquid prior to your exam. This contrast will enhance various organs and tissue so the radiologist can better view the anatomy. Please note: for the test, wear loose, comfortable clothing without metal fastenings such as zippers, or clasps – because metal may interfere with the test.

What happens during the procedure?

CT scanning can be done in either a hospital, off-site imaging center or mobile unit. You will lie down on a moving table, which will slide you into the donut-shaped scanner. Inside the scanner, multiple X-ray beams are passed very quickly through your body at different angles. The unit's computer system translates this information into multiple diagnostic images and sends them to a display console for the technologist, radiologists and/or physicians to view. A solution of dye (also called contrast) may be injected into a vein during your exam, or you may also be instructed to drink a contrast liquid prior to your exam. This contrast will enhance various organs and tissue so the radiologist can better view the anatomy. CT Scans are quick and usually only last for 5 minutes or so. You may be on the table longer however, depending on proper positioning and/or if the physician or radiologist wants to view the images before you are taken off the table. CT exams are painless, you will be made comfortable and you can talk to the technologist at any time during the procedure.

What happens after the procedure?

If you were given dye for the scan, drinking a lot of fluids after the procedure may help your body rid itself of the dye. Rarely, some people may have an allergic reaction to the dye and so are questioned about allergies prior to using this type of contrast. Most reactions happen right away so the technologist can easily and safely counteract any reaction with an injection right then and there.

Be sure to tell your technologists if you have any concerns with this type of contrast

What are the benefits of the procedure?

A CT scan provides detailed pictures in a cross section format to help your healthcare provider diagnose your problem.

What are the risks associated with this procedure?

In this procedure your body is exposed to radiation. Exposure to radiation can be dangerous if you are exposed to it often or in large amounts, however radiation doses for diagnostic exams are very well monitored and controlled, and with the latest increasing gains and improvements in diagnostic imaging using x-rays, optimal imaging results can now be obtained with much lower doses of radiation.

All of our technologists and staff are members of the ACR's (American College of Radiology) Imaging Gently and Image Wisely Campaigns. This organization provides guidelines and training to those personnel operating medical equipment that generates ionized radiation, to ensure the lowest dose possible is administered to our patients to obtain the optimal level of image quality for radiologists and physicians to diagnose your problem. If you are pregnant, you should not have a CT scan without first discussing the possible risks with your healthcare provider.

When should I call my healthcare provider?

Call your provider during office hours if you have questions about the procedure or its result. You should also call your provider right away, at any time of day, if:

You have a worsening of the pain or other symptoms you had before the test.
You are having symptoms of an allergic reaction: itching, rash, or sweating. If your throat is swollen or you have trouble breathing, call 911.