Magnetic Resonance Imaging(MRI)

Advanced technology, in a healing environment.
Our staff of board certified and state licensed Radiologists and technologists ensure that your MRI exam is performed and interpreted using the latest imaging techniques. It is our goal to offer a comfortable, anxiety-free environment to our patients while providing exceptional imaging.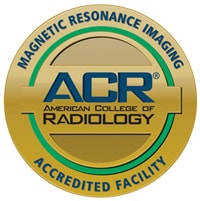 We are proud of the fact that our MRI Department is recognized by the American College of Radiology (ACR) and is accredited in both MRI and breast MRI imaging. The ACR gold seal of accreditation represents the highest level of image quality and patient safety. It is awarded only to facilities meeting ACR Practice Guidelines and Technical Standards after a peer-review evaluation by board-certified physicians and medical physicists who are experts in the field.
The MRI unit at Griffin Hospital is a "high-field" Siemens 1.5T unit. Designed to be patient-friendly, the unit boasts an ultra short bore, providing greater patient comfort without compromising image quality. Due to its advanced technology, our MRI allows technologists to keep scan times to a minimum. Not all MRI units are the same, so it is important for patients and referring physicians to understand that magnet strength is a major consideration when choosing a facility for MRI services. Routine appointments are available weekdays as well as on Sundays.
In keeping with the Planetree Model of Care, the MRI Department offers both music and aromatherapy to provide you with a comforting environment for your MRI examination. Complimentary valet parking is offered to all outpatients who use Griffin Hospital's Diagnostic Imaging Services. Appointments are scheduled through the Central Scheduling Department at (203) 732-7101.
MRI FAQs
What is an MRI?

An MRI (Magnetic Resonance Imaging) is an imaging procedure that uses a large magnet, radiofrequencies, and a computer to produce detailed images of organs and stuctures within the body in order for doctors to make or "rule out" medical diagnoses. MRI does NOT use radiation like x-rays and CT scans do.

How long will it take?

Your MRI exam may take as little as 20 minutes or as long as an hour depending on the type and number of exam(s). You may have more than one scan scheduled for the same day or back-to-back in some cases.

Will it hurt?

An MRI exam is a painless procedure. However, due to the length of some examinations, some patients may find it uncomfortable to remain still for the exam. The technologist will do their best to get you as comfortable as possible for the exam with the use ofMRl safe cushions and supports.

Will my head be in?

All of our MRI scanners at Griffin are fully lit, ventilated and open at both ends. For some exams, depending on the body part being imaged, you may not need to have your head inside the scanner at all. As an example, if you are having a knee, foot, or leg exam, you will enter the machine feet first with your head remaining outside of the scanner.

What if I'm claustrophobic?

Griffin Health offers an open MRI at 

Griffin Imaging and Diagnostics Center at Ivy Brook in Shelton

. Some tools we use to help with claustrophobia include the use of an eye mask and aromatherapy. The technologist will talk to you throughout the exam. If you are still having concerns about how you will tolerate your exam, urge your ordering provider or physician to develop a plan to help you. They may be able to prescribe an oral medication for you to pick up at your pharmacy to help you relax and to minimize anxiety during the procedure. If you do take medication for claustrophobia, be sure to have a driver bring you to and from your appointment, as you should not operate a motor vehicle while taking these medications.

Can I take my daily medication?

You can continue to take your daily medicine, and eat and drink as normal before and after your exam unless otherwise instructed.

How long will it take for results?

The images taken during your MRI will be reviewed by a radiologist. A radiologist is a physician trained to analyze and interpret MRI's and other radiologic examinations. Upon completion the report will be sent to the doctor who ordered the exam and you will be able to receive the results at your follow up.

Do I get music for my MRI?

Yes! Music is available during your MRI exam. Patients will be asked to wear hearing protection as well. This will consist of earplugs and sometimes an additional headset is utilized.

How much radiation is it?

None! MRI does not use radiation to generate images like X-ray or CT scanners do.