Minimally-Invasive Bunion Surgery

Painful bunions? Hard to find comfortable shoes? We can help.
Take steps to ease your pain with our innovative, minimally invasive solution that will have you back on your feet almost immediately, not the usual 6-8 weeks.
Griffin Health is at the forefront in bringing minimally invasive bunion surgery to the Northeast. Our bunion correction procedure uses a tiny incision that is 4X smaller than the traditional bunion surgery for less pain and faster healing. Many of our patients are able to start a walking recovery almost immediately after surgery in a special shoe designed for safe and comfortable recuperation.
Individualized Treatment Options
Bunions – known as hallux valgus – are bony protrusions at the base of the big toe. They are permanent unless treated surgically. Some people can temporarily relieve their bunion pain with gel pads, inserts, and wide shoes, while others may need a podiatrist to fashion bunion splints or prescribe anti-inflammatory medication.
Whether it is truly an issue with bunions or something else, our physicians approach each situation as unique and offer the right solution for you based on scientific and clinical expertise.
Back on Your Feet in Hours, Not Weeks!
Your individual situation will be extensively evaluated to determine if you're a candidate for our minimally invasive technique to fixing foot pain and disfigurement associated with bunions.
The greatest long-term benefit to our minimally invasive bunion surgery is that typically there is no need to touch the joint as is necessary with traditional bunion correction. This means our patients can actually walk in a special shoe immediately following surgery, not the usual 6-8 weeks with traditional bunion surgery.
Additional benefits of minimally invasive bunion surgery:
Smaller incisions and scars (4-5 times smaller than traditional bunion surgery)
Considerably less pain and swelling
Shorter operating time
Reduced need for pain medication
Less likely to experience complications or infection
By not impacting the large joint where your big toe and foot meet you will likely:
Experience less pain in your short recovery (2-4 weeks in a walking orthopedic shoe)
Maintain full range of motion and function of the joint
Be less likely to develop arthritis as you age
Want to learn what Minimally-Invasive Surgery Entails?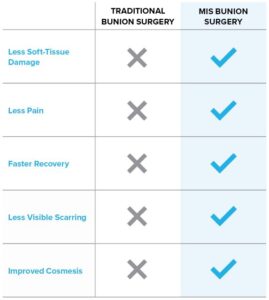 Minimally Invasive Bunion Surgery Steps
1.Minimally invasive surgery is performed through small incisions in the skin.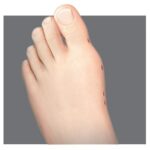 2.During an operation, your doctor will cut and shift the lower bone in your big toe over to improve the alignment of your lower joint (the metaatarsophalangeal or MTP joint).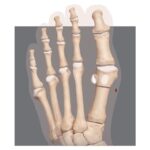 3.The correction is held in place with zero-profile screws to reduce the amount that you feel the hardware.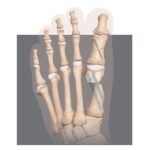 4.Minimally invasive surgery allows overall cosmetic and mechanical improvement of your foot, while maintaining or even improving range of maotion at your big toe joint.
Video Image Placeholder
Video Image Placeholder
Video Image Placeholder
Related Pages: