Ultrasound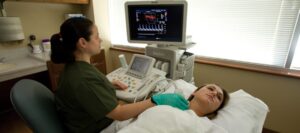 Imaging for a clearer view.
Griffin Hospital's ultrasound suite consists of two private examination rooms equipped with individual imaging units, and our staff consists of highly trained, nationally certified sonographers through the American Registry of Diagnostic Medical Sonographers (ARDMS). Our sonographers are highly competent and skilled in performing abdominal, gynecological, small parts, intra-operative, vascular, and breast ultrasound examinations. Interventional ultrasonography procedures, such as biopsies and aspirations, are routinely performed.
We are proud to announce that both of our ultrasound suites are accredited and recognized by the Joint Commission and the American College of Radiology (ACR). The department was awarded a three-year accreditation by the American College of Radiology for the areas of General Ultrasound, Breast Ultrasound, Gynecologic Ultrasound, Small Part Ultrasound, and Vascular Ultrasound. We ensure that each patient receives compassionate and individualized care. The Ultrasound Department offers such comforting amenities as warm blankets, the choice of music selection, and various types of aromatherapy during ultrasound examinations.
Preparation for ultrasound examinations
The Ultrasound Department at Griffin Hospital would like to provide exam preparations in order to facilitate your visit. It is our hope that this will assist you if you have any questions about preparing for your ultrasound. If you should have any further questions, please call the Ultrasound Department at (203) 732-7270.
Breast Ultrasound/Breast Biopsy/Breast Aspiration

If an ultrasound or mammogram was done at an outside facility or doctors office, please bring the films with you to your appointment.

Abdomen/Aorta/Renal Artery Doppler Ultrasound

Please do not eat, drink, smoke or chew gum for 6-8 hours prior to your examination. If you have an early morning appointment, please refrain from eating or drinking from midnight the night before. This allows the sonographer to get the clearest and most diagnostic images for interpretation. If you must take medication in the morning, drink small sips of water only.

Renal/Pelvic/Transvaginal Ultrasound

Please drink 24 ounces of water (1) hour prior to your scheduled appointment. Be sure not to empty your bladder before your test.

Thyroid/Carotid Ultrasound

Do not wear turtlenecks or high collar shirts.
As a member of a patient focused team, our department works very closely with highly skilled Radiologists, pathologists, surgeons, oncologists, state licensed mammographers, and radiologic technologists who are all committed to the health and wellness of those we serve.
Ultrasound FAQs
When is Ultrasound used?

Ultrasound is an excellent imaging modality to visualize many different body parts, such as the liver, thyroid vessels, and pelvic organs. This non-ionizing and non-invasive procedure helps physicians diagnose and treat their patients properly. Images are taken in real-time, which is helpful in diagnostic procedures.

Different ultrasound techniques exist for different conditions. Examples of some of the more common types of ultrasound examinations include the following:

Doppler ultrasound – used to see structures inside the body, while evaluating blood flow at the same time. Doppler ultrasound can determine if there are any problems within the veins and arteries.
Vascular ultrasound – used to see the vascular system and its function, including detection of blood clots.
Echocardiogram – used to see the heart and its valves, and to evaluate the effectiveness of the heart's pumping ability.
Abdominal ultrasound – used to detect any abnormalities of the abdominal organs (i.e., kidneys, liver, pancreas, gallbladder), such as gallstones or tumors.
Renal ultrasound – used to examine the kidneys and urinary tract.
Obstetrical ultrasound – used to monitor the development of the fetus.
Pelvic ultrasound – used to find the cause of pelvic pain, such as an ectopic pregnancy in women, or to detect tumors or masses.
Breast ultrasound – used to examine a mass in the breast tissue.
Thyroid ultrasound – used to see the thyroid and to detect any abnormalities.
Scrotal ultrasound – used to further investigate pain in the testicles.
Prostate ultrasound – used to examine any nodules felt during a physical examination.
Musculoskeletal ultrasound – used to examine any joint or muscle pain for conditions, such as a tear.
Interventional ultrasound – used to help the surgeon during a minimally invasive operation or biopsy.
Intravascular ultrasound (IVUS) – used to provide direct visualization and measurement of the inside of blood vessels.
Endoscopic ultrasound – used to obtain direct ultrasound examination of the inside of a body cavity or organ, using an ultrasound transducer inside an endoscope (a small, flexible tube with a light and a lens on the end).
Endovaginal ultrasound – used to obtain direct ultrasound examination of the inside of a body cavity or organ; ex. Uterus and/or Ovaries.

How do I prepare for having an ultrasound treatment?

Your physician and/or office staff will in most cases tell you how you will need to prepare for the specific test you are scheduled to have. Also, at the time of scheduling an appointment for an Ultrasound, our diagnostic facility you are using will give you instructions on how you need to prepare, if at all.

What happens during the ultrasound exam?

In most cases you will be asked to change out of your street clothes and put on an exam gown. This will allow the technologist/sonographer to have easy access to the area needing to be scanned. You will be positioned and made comfortable on an exam table in a manner the technologist/sonographer will need in order to image the area your physician has requested. A gel will be used with the probe to insure easy movement of the probe over your skin and insure a good signal. The technologist will continue to move the probe over your skin and change angles, and at times may apply pressure with the probe. You may also be asked to hold your breath and change positions throughout your exam.

What happens after the ultrasound treatment?

The technologist/sonographer will wipe off the gel that was used, and bring you to an area so you can get dressed. You will be told the radiologist will be reviewing the results and that your physician will get a report and will contact you directly.