We are now offering COVID-19 vaccination for children beginning at SIX MONTHS of age.
NOTE REGARDING BOOSTERS: Griffin is administering the bivalent mRNA COVID-19 vaccine booster at all Griffin Mobile Vaccination Clinics and the Griffin Vaccination Center.
COVID-19 Vaccination- NO APPOINTMENT NECESSARY AT ALL CENTERS AND CLINICS
Griffin Vaccination Center
Walk-ins are welcome at our COVID-19 Vaccination Centers at 10 Progress Drive in Shelton, no appointment are required.
This spacious center offers convenient, comfortable and efficient COVID-19 vaccinations. Infant, pediatric, and youth must be accompanied by a parent or guardian.
Shelton
Vaccination center at 10 Progress Drive, Shelton:
Monday: 12 PM to 4 PM
Tuesday: 8 AM to 12 PM
Wednesday: 12 PM to 4 PM
Thursday: 8 AM to 4 PM
Friday: 8 AM to 12 PM
Saturday: 9 AM to 12 PM
Sunday: CLOSED
PLEASE NOTE: The hours for vaccination at Griffin Hospital Occupational Medicine & Rehabilitation Services will change on June 3, 2023 to:
Monday: 12 PM to 4 PM
Tuesday: 8 AM to 12 PM
Wednesday: 12 PM to 4 PM
Thursday: 8 AM to 4 PM
Friday: 8 AM to 12 PM
Saturday: CLOSED
Sunday: CLOSED
Naugatuck
Vaccination center at 727 Rubber Ave, Naugatuck:
The Griffin Health Vaccination Center in Naugatuck is temporarily closed. The Center will open periodically to meet community health needs.
Individuals are encouraged to bring their health insurance card and photo ID if they have them. However, it is not necessary to have health insurance or a state-issued ID to receive the vaccine. No one will be turned away for lack of insurance or ID.
Community Outreach Mobile Vaccination Teams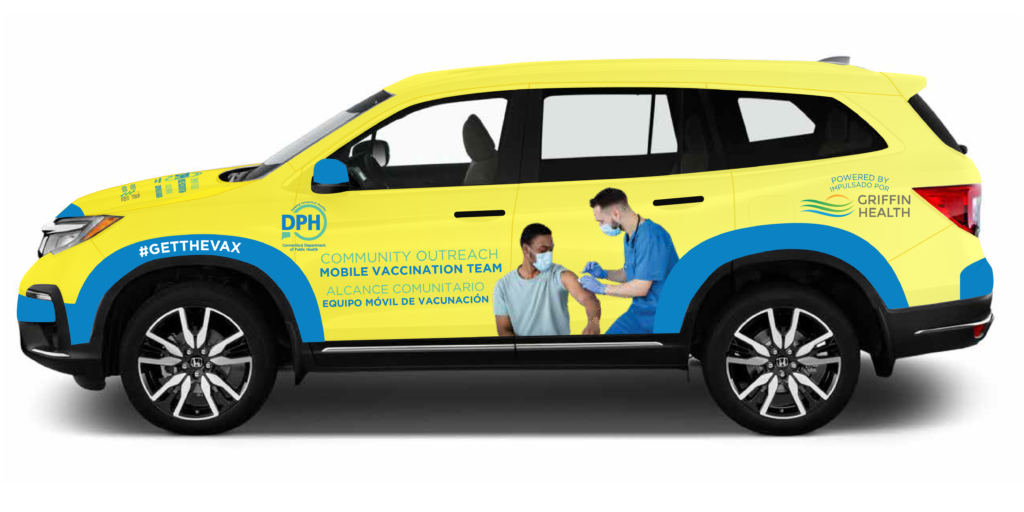 Mobile Vaccination Clinic Locations
Click HERE for a schedule of upcoming clinics on the Connecticut Department of Public Health website.
Griffin is partnering with the Connecticut DPH and local health departments to coordinate free walk-up clinics throughout the state to make sure residents of each town have more access to life saving vaccine.
Please note: Clinic dates and locations are subject to change. Check the schedule on the CT DPH website and refresh the page before heading to a clinic to ensure you have the most up-to-date information. All 12+ clinics are open to everyone ages 12 and older, and offer (according to CDC guidelines): the J&J vaccine; Pfizer and Moderna vaccine for first, second, and third doses; and booster doses. All infant and pediatric clinics are open to children ages 6 months through 11 years old and offer the complete series of vaccines for each corresponding age and vaccine brand doses.
Upcoming Mobile Clinics
Griffin Health is partnering with the State of Connecticut to efficiently administer COVID-19 vaccines according to recommendations from the Centers for Disease Control and Prevention (CDC).
Griffin, along with health organizations and infectious disease specialists around the world, strongly recommend that everyone get vaccinated for COVID-19.
We trust that the vaccines are safe. The COVID-19 vaccines were tested in large clinical trials to make sure they meet safety standards, and were reviewed by the federal government and the Science Subcommittee of Connecticut Governor Ned Lamont's Vaccine Advisory Group. Many people were recruited to participate in these trials to see how the vaccines offers protection to people of different ages, races, and ethnicities, as well as those with different medical conditions.
EXPERIENCING POST COVID SYMPTOMS?
Sometimes COVID-19 symptoms can last for months, due to damage caused to lungs, heart, and the brain after first being infected with the virus that caused COVID-19.  These conditions are sometimes named "Long COVID" or "Post-COVID-19 Syndrome," while others refer to themselves as "Long Haulers." Regardless of the name given, take comfort knowing that help is available.  Most people with Post-COVID Syndrome or Long COVID experience the effects of COVID-19 that persist for more than four weeks after being diagnosed with the COVID-19 virus.
Griffin Health Long COVID-19 Therapy provides a compassionate, comprehensive and coordinated approach to treating Long COVID-19 that empowers individuals to manage and significantly improve their symptoms. We're here to help "COVID-19 Long haulers" safely and confidently overcome symptoms that are affecting their education, work, sleep and favorite activities. Visit our Post COVID-19 Relief page to learn more.
COVID-19 Employee Vaccination
Griffin Hospital is a designated COVID-19 vaccination site by the State of Connecticut and is taking vaccination appointments for qualifying individuals. Click here for information on vaccination for employers.
Frequently Asked Questions
How many doses do I need, and how long do I need to wait between doses?
This comprehensive infographic from the CDC will help you determine how many doses are recommended based on product, age, and immune status.  At-A-Glance COVID-19 Vaccination Schedules (griffinhealth.org)
Can I mix mix & match COVID-19 Brands (heterologous series)?
Please consult with your vaccination specialist for information specific to your needs.
Are COVID-19 vaccines effective?
Yes. Evidence shows that COVID-19 vaccines are safe and work to prevent COVID-19. The Pfizer-BioNTech vaccine was 95% effective and the Moderna vaccine was 94% effective in phase 3 clinical trials with more than 70,000 participants between the two studies. Although the COVID-19 vaccines have been developed recently, the technology used in mRNA vaccines, like those developed by Pfizer-BioNTech and Moderna, has been studied for decades.
Can I still get COVID-19 after I've been vaccinated?
Yes, you can get COVID-19 after vaccination. As with the flu vaccine, you may still contract, and transmit, COVID-19 after you are fully vaccinated, but any symptoms you may experience should be less severe and resolve quicker. Therefore, it is important that you continue wearing a face mask, social distancing and taking other precautions even after vaccination.What are the side effects of the vaccine?
Those who receive the vaccine may experience mild symptoms of COVID-19 and soreness at the site of injection. Information about rare allergic reactions to the vaccination can be found on the CDC website.
Can the vaccine give me COVID-19?
No. None of the COVD-19 vaccines currently authorized for use or in development in the United States use the live virus that causes COVID-19. However, it typically takes a few weeks for the body to build immunity after vaccination. That means it's possible you could be infected with the virus that causes COVID-19 just before or just after vaccination and get sick.
Is it safe to get vaccinated if I have an underlying health condition?
Yes. COVID-19 vaccination is especially important for people with underlying health problems like heart disease, lung disease, diabetes, and obesity. People with these conditions are more likely to get very sick from COVID-19. It is recommended that people with these conditions get vaccinated. Individuals who have had prior allergic reactions to injectable medicines should consult with their medical providers before receiving a COVID-19 vaccine.
I've had allergic reactions to other shots, can I get the COVID-19 vaccine?
You should talk with your provider about what allergies may make it risky for you to get the COVID-19 vaccination, but, it has proven safe in the vast majority of instances.
Is the COVID-19 vaccination safe for children?
Vaccinations are available for children 5+ at this time., and have been found to be safe and effective in preventing seroious COVID-19 complications in children. Can people who have already had COVID-19 get the vaccine?Yes. The CDC recommends that you get vaccinated even if you have already had COVID-19 because you can catch it more than once. While you may have some short-term antibody protection after recovering from COVID-19, we don't know how long this protection will last.
Can I get the vaccine if I'm pregnant or nursing?
Yes. The American College of Obstetrics and Gynecology recommend getting the vaccine to prevent severe illness secondary to COVID-19 in pregnancy.Does this vaccine cause infertility?
No. There is no scientific evidence for this claim.
I have a food allergy, can I get the vaccine?
Yes. Information about the COVID-19 vaccination and allergies can be found on the CDC's website.
I have seasonal allergies, can I get the vaccine?
Yes. Information about the COVID-19 vaccination and allergies can be found on the CDC's website.
Where do I go for a vaccination?
Vaccines are able in a wide range of places: physician's offices, hospitals, pharmacies, community health centers, and other locations that would normally administer vaccinations.  Griffin health operates mass vaccination centers in Shelton and Naugatuck (please see hours and address above) and conducts mobile vaccination clinics in the Lower Naugatuck Valley and throughout the state. Upcoming clinics can be found here. Do I get to choose which vaccine brand I want to receive?
COVID-19 vaccine choice depends on supply and availability.  You can talk with your medical provider if you have specific questions or concerns that may lead you to want to seek out one specific COVID-19 vaccine versus another.
How do I know when to schedule my second vaccination?
Most providers will ask you to schedule your first and second vaccination at the same time, and will help you set up reminders via text, email, or phone call about your second dose.
What if I miss my second shot?
You should talk to your provider about what next steps you need to take if you miss an appointment for your second vaccination. You will need to get the second shot to be fully vaccinated but will not have to repeat the 2 shot series if you miss your second shot.
My relative is in a nursing home, can I visit once the residents are vaccinated?
You should continue to follow guidelines released by the Department of Public Health. While you or your family member may be vaccinated, you may come into others who are not, so it is critical to continue to use caution.
If I'm vaccinated, can I visit family in the hospital or nursing home?
You should continue to follow guidelines released by the Department of Public Health. While you or your family member may be vaccinated, you may come into others who are not, so it is critical to continue to use caution.
Am I going to be required to carry verification that I've been vaccinated?
In some instances yes, for instance, visitors and vendors to Griffin Health facilities are required to show proof of vaccination. Your provider will make sure that their records reflect you have received vaccine in order to most effectively treat you in the future.
Once I'm vaccinated, can I stop wearing a mask and social distancing?
No. Not everyone you come into contact with will have received the vaccine. It is critical to follow basic public health best practices for the foreseeable future
I received my first COVID-19 vaccine dose from another vaccination provider. Can I receive my second vaccine dose at Griffin?
Yes, you can receive your second dose and boosters from Griffin.<p "="">Which COVID-19 vaccine is being given?<p "="">Griffin is administering all brands of the COVID-19 vaccine including Pfizer-BioNTech, Moderna, and Johnson & Johnson. As new vaccines are approved for use by the FDA, brands other than Pfizer-BioNTech-BioNTech and Moderna may be administered by Griffin.How do I make an appointment for second COVID-19 vaccine dose?
All Griffin Vaccination Centers and Mobile Clinics are walk-in and do not require an appointment.
How soon after my COVID-19 first shot should I receive my second shot?
If you receive the Pfizer-BioNTech COVID-19 vaccine for your first dose, your second dose should be at least 21 days later. If you receive the Moderna COVID-19 vaccine for your first dose, your second dose should be at least 28 days later. Source: CDC https://www.cdc.gov/vaccines/covid-19/info-by-product/clinical-considerations.html.
Need to get tested? Call 203-437-6815
Griffin Health has been approved by the Connecticut Department of Public Health to provide a drive-up collection facility for COVID-19 testing on the Griffin Hospital campus, 130 Division Street, Derby.
Want to make a donation?
If you or someone you know is interested in supporting Griffin Health and our Caregivers so we can continue to do everything possible to maintain and replenish valuable supplies, there are two ways you can help. Click here to learn more.