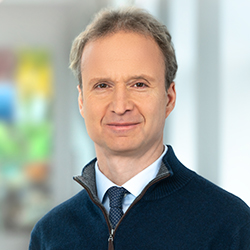 Ihor N. Ponomarenko, MD
Hospital Specialties
Surgery (Breast)
Surgery (General)
Dr. Ponomarenko is a board certified general surgeon with fellowship training in surgical oncology. His surgical interests are in general surgery with particular interest in laparoscopic surgery and surgical oncology. He performs laparoscopic gallbladder surgery and all forms of laparoscopic hernia repair. He is an expert in treating cancers of the breast, colon, thyroid, skin, stomach and pancreas. Currently, he is the division chief of General Surgery and is the Cancer Liaison Physician for the The Center for Cancer Care at Griffin Hospital.
Certification
American Board of Surgery
Subspecialties / Interests
Breast Surgery
Surgical Oncology
Laparoscopic Surgery (General)
Laparoscopic Gallbladder Surgery
All forms of Laparoscopic Hernia Repair
Education & Training
Jefferson Medical College - Philadelphia, PA

Medical School

SUNY Downstate Medical Center - Brooklyn, NY

Residency

Roger Williams Medical Center - Providence, RI

Fellowship
Care Center
Updates
If you are a physician or authorized representative of a practice listed here and would like to request changes to your profile, please send an email to griffin@griffinhealth.org.