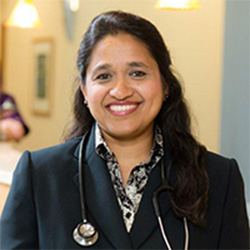 Shyla Muriel, MD is an experienced, board-certified Internal Medicine physician committed to providing highly personalized primary care to her patients in Derby and Shelton.
For her patients' convenience, Dr. Muriel offers flexible office hours, and same-day visits can usually be accommodated.
To schedule an appointment with Dr. Muriel, please call 203-888-5470.
Booking Appointments Just Got Easier! Griffin Faculty Physicians- Primary Care is now using Everseat. You can now easily book and request available appointments with the platform.
How Does It Work?
We post appointments: When we receive a cancellation or have an opening, we post the open time slot on Everseat.
You Book It: Click "Book Now" to request the appointment that works for you. We'll respond and confirm your appointment.
Getting Started…
Request an appointment with us:
Certification
American Board of Internal Medicine
Updates
If you are a physician or authorized representative of a practice listed here and would like to request changes to your profile, please send an email to griffin@griffinhealth.org.