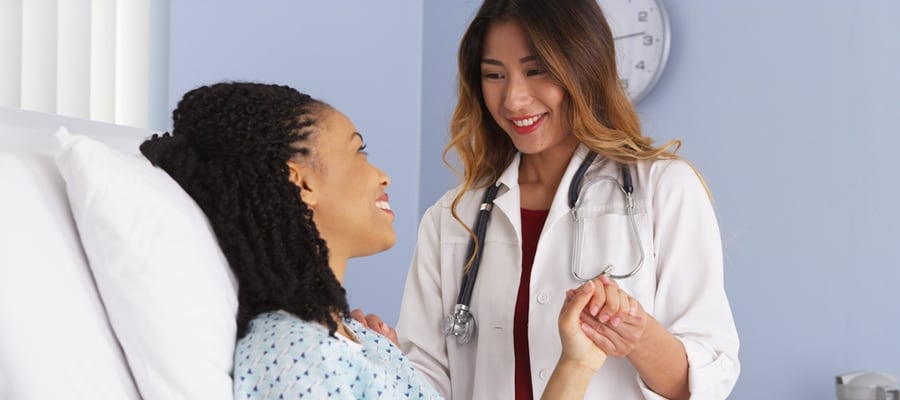 Griffin Hospital is a 160-bed acute care community hospital with a critical care unit and three medical medical/surgical inpatient care units for patients with a wide range of diagnoses and medical needs.
As the flagship hospital for Planetree, Griffin Hospital is an international leader in patient-centered care and has received national recognition for creating a facility and approach to patient care that is responsive to the needs of patients and caregivers. Many healthcare facilities around the world send visitors to Griffin Hospital and incorporate our patient-centered concepts into their inpatient healthcare models.
We encourage you to be actively involved in your care, and want you to feel comfortable asking any questions that you may have. Once you are admitted to Griffin Hospital, we will hold a Patient Care Conference with you at some point during the first two days of your hospital stay. Your primary nurse and attending physician will meet with you (and your family, if they are available) to discuss your treatment and share information to better coordinate your care.
Please do not hesitate to speak to your nurse if you want to review your medical record/chart, or if you have any questions regarding your room, meals, or any other aspect of your stay with us.
About Your Medical Care
Attending Physician

Your attending physician is a member of the Griffin Hospital medical staff. He or she is responsible for directing your diagnosis and treatment while you are here. Your physician and the hospital staff, along with you and your family members, will plan your treatment, diet, medications, and any special care you will need.

Primary Nurse

Griffin Hospital nurses believe it is their responsibility to provide you with a caring and supportive environment. During your stay, your primary nurse will manage your care, provide support, be an advocate for you, and educate you about your health.

House Staff

Griffin Hospital takes pride in its commitment to medical education. We have an internal medical residency program. This means residents, interns, and medical students may participate in your care under the supervision of your physician. If you do not wish to have them participate in your care, please let your nurse and physician know.

Social Services Staff

Social Services are available for all patients and their families. Our social workers can assist you by providing referrals to appropriate community agencies, support groups, or when applying for Medicaid, disability or other entitlements. To obtain assistance, please dial 7230 from your room phone or 203.732.7230 from your home phone.

Patient Representative Services

Everyone at Griffin Hospital is focused on providing you with the best possible care during your stay. If you have comments or suggestions, or experience any difficulties, please call our Patient Relations Hotline at 7121 from your room phone or 203.732.7121 from home. And, of course, your nurse is always available to discuss any concerns or needs you may have.

Continuing Care

With most insurers putting a strong emphasis on managed care, it is very important to know what your insurance company will or will not cover regarding your hospital stay. Your doctor has been assigned a Griffin Hospital Continuing Care Coordinator who will assist you with questions regarding insurance benefits, developing a safe and appropriate discharge plan, and negotiating with your insurer for benefit coverage after discharge.

Our Volunteers

We have a dedicated corps of volunteers who come into the hospital daily to provide services such as soft touch massage, handholding, therapy dog visitation, and fresh baked goods when available. If you are interested in these services, dial 7555. If you or someone you know would like to be a volunteer at Griffin Hospital, please call 203.732.7555.

Pain Control

As a patient, you can expect we will ask whether or not you are having any pain. We will teach you how we assess for pain and respond to your pain needs. We will also evaluate your treatment to be sure we have met your personal needs for pain control.

Advanced Directives

As a patient, you have the legal right to prepare instructions to guide your physician and health care providers should you become incapacitated to the point where you can no longer actively take part in decisions affecting your life or become unable to direct your physician for your medical care. If you have a Living Will or other Advance Directives, inform the hospital staff at the time of your admission so it can be included in your medical record. For more information on Living Wills or Advanced Directives, please call 7230 from your room phone or 203.732.7230 from home.

Organ Donations

You will be asked by a member of the hospital staff if you are an organ donor. Donations serve a useful purpose by enhancing the life of the beneficiary and assisting in medical research. If you have questions about becoming an organ donor, contact the New England Organ Donation Bank at 203.785.4237.
About Your Stay
Valuables

Please give your valuable items to a family member or friend to take home or ask your nurse to put them in the hospital safe until you are ready to be discharged. Dentures, eyeglasses and contact lenses should be kept in protective cases. If you lose an item, report the loss to a staff member as soon as possible.

Your Diet

Your diet is an important part of your therapy while in the hospital. While here, you will have to follow the dietary plan set by your physician. If you are given specific dietary directions, a dietitian will visit you within 24 hours of your admission to discuss your meals and develop a nutrition care plan specific to you. This will include any nutritional concerns while you are here as well as when you go home.

In-Room Dining

Griffin Hospital's In-Room Dining program tailors meal time to your preference with "anytime" meal hours from 7:15 a.m.-7 p.m. A Guest Service Representative will take your order at the bedside and will remain on the floor in case you need anything throughout the day. If you would like something after 7 p.m., please contact your nurse and he or she will assist you. To contact the Food and Nutrition Department, dial 7888 from your room phone.

Smoking

Smoking is prohibited in any area of the hospital or on any part of the hospital property.

Mail and Flowers

Mail and flowers apressed to you will be delivered to your room. Mail received after your discharge will be forwarded to your home apress. Outgoing mail can be given to a nurse or volunteer.

Environmental Services

A member of the Environmental Services staff will clean your room daily. If you have any suggestions or comments, please feel free to call Environmental Services at 7495 from your room phone.

Language Services

Foreign language interpreters, sign language and oral interpreters, TTYs and other auxiliary hearing aids and services are available free of charge. For assistance, please contact your nurse or any member of the Nursing staff.
Visitor and Caregiver Information
Your Visitors

Rest is an important part of your care, so limiting the number of visitors you have is a valuable part of your recovery. Patient visitors are allowed at any time unless there are medical reasons preventing it. While in the hospital, we ask that visitors be respectful of other patients by speaking quietly and avoiding unnecessary noise. Those with a cold, sore throat or other communicable illness should not visit until they are well.

Standard Precautions

To ensure the safety of visitors and staff, Griffin Hospital follows "Standard Precautions" to protect against the spread of infections and disease. This includes hand washing and can require staff and visitors to use gowns, gloves, goggles or masks to prevent exposure to blood or body fluids. If you have any questions about these procedures, please speak with your nurse.

Smoking

Smoking is prohibited in any area of the hospital or on any part of the hospital property.

Dining Room

The Dining Room is located on the Ground Floor and is open to the public for breakfast, lunch and dinner every day. Breakfast is served from 6:30 – 10 a.m. Lunch is served from 11 a.m. – 2 p.m. and dinner is served from 4:30 – 6:30 p.m. Snacks and beverages are available throughout the day from 6:30 a.m. – 6:30 p.m.

Guest trays are available for visitors who wish to dine with a patient in their rooms. A meal must be purchased from the Dining Room cashier by 11 a.m. that day for lunch and by 4 p.m. for dinner. The Food and Nutrition staff will inform you of the cost. Visitor meals will be delivered along with the patient trays. Food and Nutrition can be reached by dialing 7530 from your room phone.

Residential Kitchens

Residential kitchens are available on all patient care units so family members can prepare meals and dine with you. The residential kitchens are also used for cooking demonstrations and nutrition education. The kitchen is stocked with beverages and snacks for you and your visitors. Fresh coffee, prepared by our volunteers, is also available.

Vending Machines

Vending machines are located on the Ground Floor, down the hall from the Patient Registration Lobby. A microwave is also available in the vending area for use. Coffee and beverages are also available in our Emergency Department 24 hours a day.

Care Partner Program

Your family and friends are a vital part of the healing process. The Care Partner Program at Griffin Hospital provides an opportunity for your loved ones to be directly involved in your care. Care partners will be trained by your nurses to help with routine care functions and assist you during your stay. All identified care partners will wear an identification badge. The Care Partner Program is also a good introduction into the basic care you may need at home following discharge, including:

Helping with menu selection, meals, snacks and feeding
Providing personal care – i.e. baths, massage, nail care
Learning simple dressing changes
Monitoring intake and output
Helping with walking/wheelchair trips

For more information, or to take part in the program, please speak to your nurse.
About Your Discharge
Your doctor will determine when you are well enough to go home. In preparing to leave, we suggest you arrange for a family member or friend to pick you up. Your room needs to be thoroughly cleaned before another patient can be admitted. Therefore, it is imperative that every effort be made to leave at the designated discharge time.
Discharge Planning

Within 48 hours of admission, a patient care conference will be scheduled with you, your doctor and your Primary Care Nurse to discuss what to expect during your hospital stay. To help you plan for your needs once you are discharged from the hospital, your projected date of discharge will be discussed at this time. A Case Manager will also meet with you within 48 hours of admission to help plan for your discharge by determining the level of care you will need. Our Case Managers can assist with transfers to an extended care facility or rehabilitation facility, if needed. They will also assess continuing care needs like visiting nursing services, equipment, arrange for assistance with chores, meals, etc., as well as companion services and financial and insurance resources. The case manager will meet with you and your family privately and confidentially. For more information, dial 7376 from your room phone.

Griffin Pharmacy & Gifts

One Less Stop on Your Way Home!

If you are prescribed any medications prior to discharge, we can have them filled and delivered to your room before you leave for home. Speak to your nurse or dial 1490 from your room phone for more details.

Located on the ground floor just off the main lobby, Griffin's full-service retail pharmacy provides patient prescriptions, over-the-counter medicines, vitamins, and nutritional supplements to the community.

Griffin Pharmacy & Gifts offers:

Speed – Prescriptions ready when you are discharged
Savings – Competitive pricing with other pharmacies
Convenience – Online renewals & free delivery (within 24 hours)
Expertise – Free consultations from your trusted healthcare source
Griffin Pharmacy & Gifts is open Monday – Friday: 9 a.m.-7 p.m.; and Saturday: 9 a.m.-3 p.m.

For more information, call 203.732.1490 or email gpg@griffinhealth.org.

Hospital Bill

Your hospital bill includes your daily room rate, which covers general nursing care, dietary services, housekeeping, laundry, maintenance, medical records and use of standard hospital equipment. Apitional services ordered by your physician such as operating and recovery room usage, medications and supplies, laboratory, x-ray and therapeutic services will be listed separately on your hospital bill. Your bill does not include your attending physician's fees. Specialty Services – In apition to your personal doctor, you may also receive bills from consultants such as radiologists, cardiologists, pathologists and anesthesiologists whose services were requested by your doctor. Each physician bills you separately. You are encouraged to review your bill and if you have any questions, please contact the Business Office at 7360 from your room phone or at 203.732.7360 from home.

Financial Arrangements

We offer Financial Counselors to help if you have any questions about your bill. A representative will be assigned to you who will help obtain billing instructions, assist you in completing forms and advise you of your financial responsibility. To contact our Financial Counselors, dial 7360 from your room phone or 203.732.7360 from home.

Patient Satisfaction

At Griffin Hospital, our goal is to create an exceptional healthcare experience for our patients and their visitors. If at any time during your stay with us, you are not happy with your care, please tell us so we can apress your concerns. In apition, you may also receive a telephone survey call when you return home. The survey will only take about 10 minutes and will help us learn how we can better meet our patients' needs.

Access to Your Medical Records

Griffin Hospital offers a patient portal called My Griffin Health. This secure, private website allows you to access your health information online. Griffin Hospital offers this website to help you find all the information you need about your health information. You can use My Griffin Health to:

You can share your medical records with your care partner (with appropriate authorization).
Make sure your healthcare provider has the correct contact information.
Update your health information, including allergies, medical conditions, medications you take and procedure history.
Review your visit history, insurance information, medications, reports and more.
Review your statements and pay your hospital bills online.
Check your appointment, directions and contact information, and which doctor you're seeing.
Verify your doctors' and nursing discharge information.

My Griffin Health also allows you to archive your health record offline and save it in a convenient PDF file. You even have the option of providing an exchange of information to many of your doctors' electronic medical record systems.

How do I get started?

Visit Griffin Hospital's Medical Records Department on the Ground Floor of the hospital to fill out the form and provide a photo ID. In a few days, you will receive a special code and instruction on how to access My Griffin Health. For more information, contact Medical Records at 7390 from your room phone or 203.732.7390 from home.
Caregiver & Discharge Education