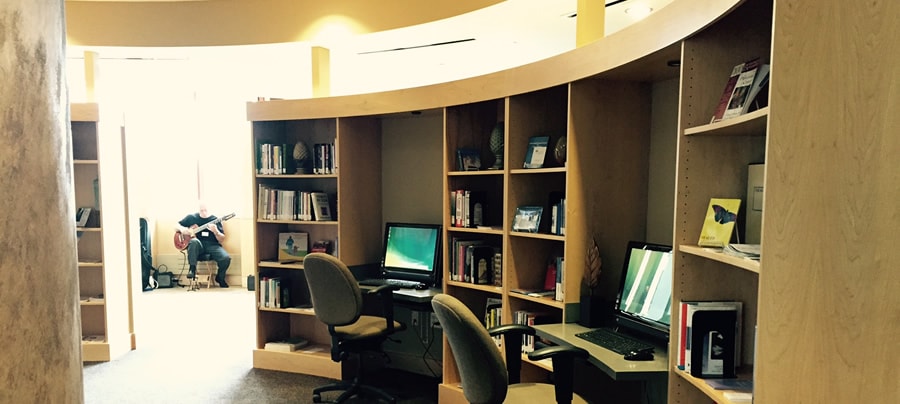 Cancer resources for you and your family
The Cancer Information Resource Center, located in the main lobby of the Center for Cancer Care, is an educational resource available to help you and your family access reliable information about cancer so that you are able to make informed decisions about your healthcare. Materials are available in both print and digital formats. Internet access is also available. Assistance is provided by specially trained volunteers and by Griffin Hospital's librarians.
The Cancer Resource Center is a satellite of our main Community Health Resource Center located inside Griffin Hospital and is open to the community. Patients and consumers who would like assistance researching a particular health topic may email our librarians.
Web Resources
There is a wealth of information online about cancer and treatment options. The following compilation is intended to help you research your medical condition and find support options.
Cancer
American Cancer Society
Cancer News . – Cancer News on the Net is dedicated to bringing patients and their families the latest information on cancer diagnosis, cancer treatment and cancer prevention.
National Cancer Institute  – Accurate, up-to-date, comprehensive cancer information from the U.S. government's principal agency for cancer research.
Brain Cancer
American Brain Tumor Association
National Brain Tumor Society  – National Brain Tumor Society is fiercely committed to finding better treatments, and ultimately a cure, for people living with a brain tumor today…
Breast Cancer
Breastcancer.org – Breast Cancer Information and Awareness  – We are a 501(c) non-profit organization offering a complete resource for breast cancer, including up-to-date information on the latest treatments, screening tests, stages and breast cancer types, as well as prevention information.
The HER2Support Group  – We are patients, caregivers, mothers, daughters, sons and husbands of breast cancer survivors who are HER2 positive. We gather here to seek information about the illness. Here you will find newly diagnosed patients and long term survivors willing to share their experiences and knowledge.
Susan G. Komen®  – Official site for Susan G. Komen®, a non-profit organization dedicated to saving lives and ending breast cancer forever. Support our mission and help make an impact in local communities.
Colorectal Cancer
Screening, Research, Patient Support – Colon Cancer Alliance  – The Colon Cancer Alliance is the largest national patient advocacy organization dedicated to prevention, education, early detection and treatment.
Kidney Cancer
Kidney Cancer Association  – Learn how to survive kidney cancer. Find treatments, expert doctors, financial help, support meetings, and Nurse Hotline.
Lung Cancer
Lung Cancer Alliance  – Lung Cancer Alliance is the only national non-profit organization dedicated solely to patient support and advocacy for people living with lung cancer and those at risk for the disease.
Skin Cancer
MPIP: Melanoma Patients Information Page | Melanoma Research Foundation