Childbirth is one of life's most meaningful events.
That's why Griffin Hospital offers family-centered maternity care in an environment that will best meet individual and family needs. The Childbirth Center at Griffin Hospital follows our patient-centered Planetree philosophy and we are committed to providing a warm, caring atmosphere for you and your loved ones.
Schedule an Appointment
To schedule your appointment please call Griffin Hospital Central Scheduling at (203) 732-7101.
What We Provide You
Your Room
Our private, family-friendly rooms feature a warm, cozy decor that maximizes comfort and minimizes visible technology. Each room includes:
a glider rocking chair
Wi-Fi Internet access
a television
a private bathroom with shower.
The rooms are equipped to allow your new baby to stay in the room with you. Some rooms are available with double beds so that your partner may stay with you overnight.
Family Room
Our family room, equipped with television, reading materials, and toys, offers visitors a place to gather during the moments you require privacy. You may have two support people present during your labor. Once you have been moved to your post partum room you may choose the amount of visitors you would like until quiet hours start at 8:00 pm. Overnight visitation is limited to your spouse or significant other.
Facility and Staff
To ensure that you receive the best care possible, our Childbirth Center at Griffin Hospital features five delivery rooms and two operating rooms. The Childbirth Center at Griffin Hospital has physicians and other professionals available 24 hours a day who are specially-trained in maternal and newborn care. Our lactation consultant and educators are also available before and after your delivery.
Labor and Delivery
Each woman experiences childbirth differently and almost all women worry about how they will cope with the experience of labor and delivery. The decision of whether or not to use medication is a personal one and our childbirth nurses will respect and support whichever method you choose.
Birthing balls and peanut balls are available for positioning and our Jacuzzi provides a relaxing place to labor. Our skilled nurses can guide you in breathing and relaxation techniques and will stay by your side to guide you. If you prefer to use medication during labor, a variety of options are available, including nitrous oxide analgesia and epidural anesthesia.
Childbirth Education
Expectant parents are encouraged to enroll in our Prepared Childbirth class, which will provide an overview of labor options and instruction in breathing and relaxation techniques.
Our Newborn Care Class is designed help parents understand their newborns behaviors and needs, including feeding, swaddling, and soothing.
We always have a Breastfeeding for Beginners class, where our board-certified lactation consultant helps new parents to understand the biological process of breast feeding and discuss how to get started, proper positioning, recognizing hunger signals, frequency and volume of feedings, how to use a pump, and preparation for your return to work.
Healthy Beginnings
Two to three days after your discharge, you will receive a wellness phone call from one of the Childbirth Center nurses. They can discuss any questions or concerns you have and review your plan of care.
Car Seat Installation
Did you know that 4 out of 5 car seats are installed incorrectly? The Valley Parish Nurse Program staff is certified car seat technicians and can install your infant or child seat properly at no charge. Call (203) 732-1337 for an appointment any time during your last trimester.
Looking for free breastfeeding information online?
The CT Department of Public Health provides great resources through their dedicated breastfeeding website.
After Delivery

Our Commitment to Breastfeeding

We practice the World Health Organization's recommendations for successful breastfeeding:

Have a written breastfeeding policy that is routinely communicated to all health care staff.
Train all health care staff in the skills necessary to implement this policy.
Inform all pregnant women about the benefits and management of breastfeeding.
Help mothers initiate breastfeeding within one hour of birth.
Show mothers how to breastfeed and how to maintain lactation, even if they are separated from their infants.
Give infants no food or drink other than breast-milk, unless medically indicated.
Practice rooming in – allow mothers and infants to remain together 24 hours a day.
Encourage breastfeeding on demand.
Give no pacifiers or artificial nipples to breastfeeding infants.
 Foster the establishment of breastfeeding support groups and refer mothers to them on discharge from the hospital or birth center.

Additional Resources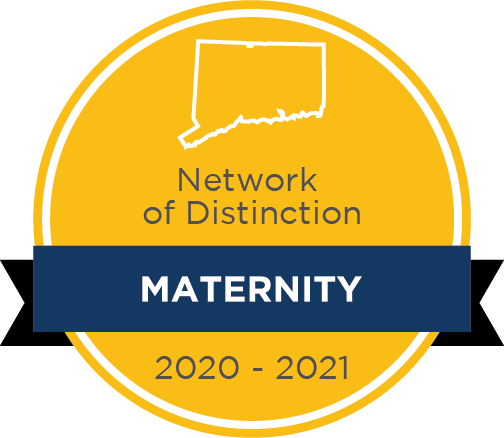 Get Rewarded for Choosing High-Quality Care
Connecticut State Employees and State Health Plan members can now earn a cash reward for choosing this high-quality service for their healthcare needs through the State of Connecticut Network of Distinction program. To get started book an appointment through your State Health Navigator at (866) 611-8005 or at carecompass.ct.gov/nod.
Classes
All classes and groups will be offered remotely via Zoom at no cost.

Treatment Specialties
Childbirth Education & Support Programs

Education and support when you need it most. Whether you are giving birth for the first time or are an experienced parent, the anticipation of childbirth can sometimes be overwhelming. The more you learn about pregnancy, childbirth, and infant care, the more comfortable and confident you will be when your baby arrives. The Childbirth Center at Griffin Hospital offers a. Find out more here.

Meaningful Childbirth at Griffin Hospital

Everything About Childbirth Should Be Meaningful. Having a baby is truly a special event, and like any good mother, you want the very best for your baby from the very beginning. To help you consider your options when it comes to finding the right care for you and your growing family, we've compiled some questions you should ask yourself:. Does. Find out more here.

Same-Day Surgery Amenities

Amenitities for health and wellness A number of complementary services and amenities are available to patients and visitors to aid in healing and relaxation. More about Planetree at Griffin Hospital Guided Imagery Guided imagery is a relaxation technique that focuses your attention on pleasant images to replace negative or stressful feelings and relax. Guided imagery may be directed by you. Find out more here.