Meaningful Childbirth at Griffin Hospital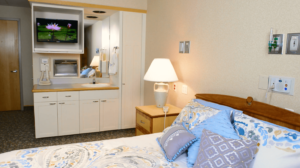 Everything About Childbirth Should Be Meaningful.
Having a baby is truly a special event, and like any good mother, you want the very best for your baby from the very beginning. To help you consider your options when it comes to finding the right care for you and your growing family, we've compiled some questions you should ask yourself:.
Does the facility provide a childbirth education program, before and after I give birth?
Will I be treated by the same doctor I know and trust throughout my pregnancy, while giving birth and postpartum?
During my stay, will I have 24/7 access to physicians and staff specially-trained in maternal and newborn care?
Throughout the experience, will my individual needs be met?
At The Childbirth Center at Griffin Hospital, we are committed to providing expert care in a warm, home-like atmosphere that best meets the needs of Mom, baby and the entire family. Here we know that as a new mother, you deserve to be pampered and taken care of as much as your new baby is. This is why we provide individual rooms with warm, cozy decor that will make you feel as if you are in the comfort of your own home. Each room is equipped with everything you need to keep you and baby happy and healthy as you begin your life together.
Whether you are pregnant, thinking about getting pregnant, or love someone who is pregnant, we warmly invite you to experience everything that our childbirth center has to offer.
Begin by taking our online tour, and then schedule one in person. Tours are held Mondays from 4:00 to 6:00 pm. The Griffin Hospital family looks forward to being a part of one of your family's most meaningful experiences.
Related Pages: