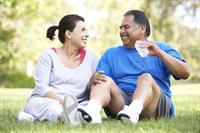 Healthy For Life with Elevated Blood Sugar Program
Healthy for Life with Elevated Blood Sugar is free a 6-week program for individuals with either pre-diabetes or diabetes.
This evidence-based curriculum follows the National Standards of Medical Care in Diabetes together with The American Heart Association Healthy for Life curriculum.
Topics covered include healthy eating, weight management, physical activity, medication and glucose management technology, health related risks, coping skills, and healthy lifestyle goal setting.  Class attendees engage in learning and discussing clinical and lifestyle self-management behaviors to support optimizing their health, blood sugars, quality of life and psychosocial factors.
This session will be held on Thursdays November 2, 9, 16, and 30, and December 7 and 14 from 6-8 p.m. at the Griffin Center for Healthy Living, Quarry Walk, 300 Oxford Road, Oxford.
To register or for more information, contact The Griffin Center for Healthy Living Coordinator at 203-732-1369.