Day of Surgery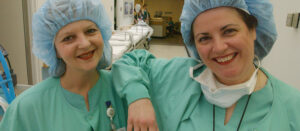 What to Expect at the Hospital
When you arrive, you may report directly to the Same Day Surgery Department for your scheduled appointment. The department is located on the ground floor of the hospital.
Before Surgery
Upon arrival in the Same Day Surgery Department you will be greeted by a member of the Same Day Surgery staff who will take you to a resting / preparation area. You should expect to spend one to two hours in this area, depending on your procedure. You are welcome to bring reading materials or have a friend of family member stay with you during this time.
Preparation
During preparation, you may be asked the same questions by a number of times by various staff members. This is a safety measure to make sure everyone involved in your care has accurate information.
Before your surgery you will change into a hospital gown and a nurse will take your blood pressure and temperature and start an IV. Your nurse will review surgery procedures with you and answer any questions you may have.
The operating nurse assigned to your care will meet with to to review your chart and address any questions or concerns you may have. The nurse will ask you to repeat information about your surgery to make sure you fully understand the procedure.
Anesthesia
An anesthesiologist will meet with you prior to your procedure. The anesthesiologist will review your medical history with you and explain your anesthesia and pain management options.
Learn more about Anesthesia at Griffin Hospital
After Surgery
Depending on the type of anesthesia used, you may go to the Post-Anesthesia Care Unit (PACU) for initial recovery or return directly to the Same Day Surgery unit following the procedure.
Post Anesthesia Care Unit
In the PACU, nurses will continue to monitor your vital signs while the anesthesia wears off. They will ask you to do deep breathing and ankle or leg exercises. You may briefly experience dry mouth, sore throat, blurry vision or chills. This is not unusual following anesthesia. Medication will be provided if you experience pain or soreness. When your vital signs are stable you will return to the Same Day Surgery unit for further recovery prior to discharge. If you require an overnight stay, a hospital bed will be assigned to you on an inpatient unit.
Visitors
PACU visits are permitted at the discretion of your nurse. Visits are limited to five minutes.
Pediatric Patients
Parents will be permitted to visit pediatric patients once it is safe to do so.
Family and friends may join you once you have returned to the Same Day Surgery unit or your room. A nurse will continue to monitor your recovery. You will be given a beverage and light snack. Physical activity can aid recovery so you will be encouraged to get up or out of bed as soon as you are able to do so safely. It may be required that you urinate at least once prior to discharge after some procedures.
Going Home
Before you leave the hospital, your nurse will review your surgeon's written instructions with you and your escort. Crutches and other equipment you may need will be provided with instructions. A nurse from the Same Day Surgery unit will call you the day after surgery to ask how you are feeling and to address any questions or concerns you may have.
For Your Convenience
Parking & Directions
Parking at Griffin Hospital is free.
Our main parking lot is located in front of the hospital main entrance and a second lot is available next to the hospital on Seymour Avenue. Additional parking is located down the street at the Center for Cancer Care. Parking for the Emergency Department is located at the Emergency entrance.
Valet Parking
Valet parking is available between 6:00 AM and 5:00 PM at the main entrance. Valet parking is free for patients and their escorts.
Handicapped Parking
Handicapped parking is available directly in front of the hospital.
Directions to Griffin Hospital

Public Transportation
Taxi Service
Valley Cab Co.
(203) 732-8294
Griffin Pharmacy & Gifts
Griffin Pharmacy & Gifts is located on the ground floor of Griffin Hospital, off the main lobby.  Available merchandise includes over-the-counter medications, vitamins and nutritional supplements, surgical supplies, candy and snacks, gifts, flowers, cards and more.  Gift and prescription delivery service available.