Physical Therapy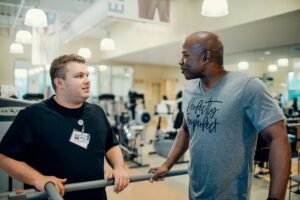 Improving function – instilling confidence
Heal, revitalize, and live healthy.  Griffin Physical therapists provide individualized treatment that will help you rebuild strength and mobility.  Heal your injury or improve your health with an unmatched level of care, technology and one-on-one care from a certified physical therapist through your entire treatment.  Physical Therapists at Griffin Hospital work with other treatment team members from Occupational and Speech Therapy to help restore function and retrain your body using adaptive techniques and equipment, focusing specifically on strength and mobility – for decreased pain and improved fitness.
PT's provide the following services:
Breast Surgery Rehabilitation & Lymphedema Management
Pelvic Floor Rehabilitation  (Constipation, Fecal Incontinence, Pelvic Pain, Dysfunction, Tension, Urinary Incontinence)
Griffin Hospital's PT department works with inpatients (patients staying at Griffin Hospital) and outpatients (patients who attend therapy as needed at our outpatient facility), providing therapeutic interventions as prescribed by a physician.
Locations
Derby
350 Seymour Ave, Derby, CT 06418
203-732-7445
Oxford – Quarry Walk
300 Oxford Rd, Oxford, CT
203-735-4070
Home of the new Griffin Center for Healthy Living: https://www.griffinhealthyliving.org/ featuring the Alter-G Zero Gravity Treadmill and the Trackman Golf Simulator
Shelton
10 Progress Drive, Shelton, CT
203-944-3718
Related Pages: