Psychiatry – Inpatient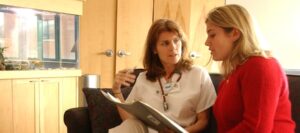 Griffin Hospital's Inpatient Psychiatric Unit is a 14-bed adult and geriatric short-term treatment unit providing comprehensive evaluation and focused, crisis-oriented treatment for patients who cannot be treated safely on an outpatient basis. The treatment program focuses on reducing symptoms, stress management, enhancing coping skills and medication management. Traditional therapeutic approaches, such as individual and group therapy and patient and family education, are enhanced with complimentary services such as arts and entertainment, journaling, yoga, aromatherapy, relaxation and spirituality groups.
Inpatient psychiatric services include:

Stabilization of mood disorder and other behavioral health disorders
Treatment of additional psychiatric disorders

Hospital Consultation and Liaison Services

A multidisciplinary team provides psychiatric consultation/liaison services to patients on the medical/surgical floors of Griffin Hospital.

Inpatient Psychiatric Hospitalization

Griffin Hospital's Inpatient Psychiatric Unit provides effective psychiatric care in a safe, peaceful environment where traditional therapeutic approaches such as individual and group therapy are enhanced with complementary services such as patient education, aroma therapy, arts and entertainment, and journaling.

The Inpatient Psychiatric Unit offers thorough evaluation and focused brief treatment for voluntary and involuntary patients who cannot be effectively treated in a less intensive setting. Treatment is provided through a structured therapeutic setting for individuals and groups with an emphasis on the reduction of symptoms, stress management, enhancement of coping skills and medication management.

If you are unsure if you or a loved one suffers from depression, click here for a short questionnaire that may help to determine the severity of the depression.

Discharge is carefully coordinated with other relevant department programs and community providers, including case management services.

Services are provided by board certified psychiatrists, licensed psychiatric social workers, nurses, clinical nurse specialists, mental health workers, and occupational and activity therapists. This multidisciplinary team collaborates with the patient (and family, when appropriate) to establish focused, time-limited treatment goals based on the individual needs of each patient.

A Healing Environment

This 14-bed adult and geriatric unit within Griffin Hospital was designed to meet the Planetree patient care model's healing health care design principles, including:

the elimination of barriers between patients and staff where possible
the use of familiar furnishings and finishes to reduce anxiety
an emphasis on nature, natural light and the arts to lift the spirit
the creation of comfortable public spaces to encourage social interaction and the involvement of family
the use of design and technology to protect patient privacy and enhance patient and staff safety

The unit offers both private and semi-private rooms, a residential-style kitchen and dining room, an inviting entertainment lounge and a large saltwater aquarium.
Related Pages: