Psychiatry – Intensive Outpatient Programs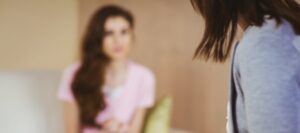 Regain control: Adult Mental Health Intensive Outpatient Programs
Each program provides a highly structured, intensive, milieu based assessment and treatment program as an alternative to inpatient hospitalization or as a transition from a brief inpatient admission. Assessments and treatment plans are individualized to address the individual's needs. Treatment involves a variety of group and individual methods along with the use of medications as indicated. A multidisciplinary team, the patient and the family collaborate to develop and then achieve focused, relevant goals. This program is offered during the daytime hours, Monday through Friday.
Dual Diagnosis Intensive Outpatient Program
Griffin Hospital's Dual Diagnosis Intensive Outpatient Program is designed for adults dealing with substance use disorder who require more than outpatient therapy, but not 24-hour hospitalization. This service is also available to adults with associated psychiatric diagnosis (dual diagnosis).
With the goal of matching the intensity of the treatment to the severity of the illness, participants are continually assessed by a multidisciplinary team of psychiatrists and certified addiction counselors to determine when they can be moved down to a less intense level of care. The program includes diagnostic assessment, family involvement, wellness, self awareness and education.
Related Pages: