Weight Loss & Management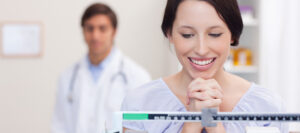 Manage Your Weight with Help from Griffin Hospital
Being overweight can be a debilitating chronic condition if it's not managed correctly or consistently. Griffin Hospital offers several programs aimed at helping those with weight issues and several more focused on prevention and wellness.
From a few extra pounds to obesity, extra weight is a cause of concern.
Obesity Prevention & Management
Learn more about Griffin Hospital's
Wellness for Life Program
VITAHLS School Nutrition Programs
NuVal Scoring System
Bariatric Support Services
Bariatric Exercise Programs
Bariatric Weight Loss Surgery options
These and other weight management programs are a key part of Griffin's overall commitment to providing the community with ways to combat the growing obesity epidemic throughout the country, as evidenced by a recent report on obesity by the Robert Wood Johnson Foundation.  The report states that more than two-thirds (68 percent) of American adults are either overweight or obese, with adult obesity rates more than doubling in the last 30 years — from 15 percent in 1980 to 35 percent in 2010. While the report ranked Connecticut relatively low on the national scale with 24.5 percent of the state population either obese or overweight, it also report predicted an increase to 46.5 percent by 2030.
"These statistics are extremely troubling. If we don't take action now, over the next 20 years obesity could contribute to significant increases in cases of type 2 diabetes, coronary heart disease and stroke, hypertension, arthritis, and obesity-related cancer in Connecticut. This will bring an enormous increase to healthcare-related costs and lost productivity. That's why Griffin is looking to get out in front of this building storm and work with the community and our patients so we can have a healthier future."
Additional Weight Management resources at Griffin hospital
Cardiac Rehab/Fitness Center
Pharmacy
Social Worker
Health Resource Center
Dietary
Spiritual Care
Weight Loss/Weight Management Services
Griffin Hospital offers three proven resources for weight loss and weight management – Griffin Bariatrics, Medi-Weightloss Clinics and our physician-supervised Weight Loss Exercise Program.
Achieving and maintaining a healthy weight is an important part of wellness, but not every method is best suited for each individual, that's why we offer these three options.
Griffin Bariatrics
Griffin Bariatrics helps patients achieve and maintain dramatic, life-changing weight loss and live healthier lives. Focusing not only on the bariatric surgery itself, but also on patients' needs both before and after surgery, Griffin Bariatrics is geared toward long-term success. Our surgeons specialize in Roux-en-Y gastric bypass surgery, sleeve gastrectomy, and Lap-Band® adjustable gastric banding surgery – three of the most proven bariatric surgeries to date.
Weight Loss Exercise Program
Griffin Hospital offers a physician-supervised Weight Loss Exercise Program for people who are on a weight loss journey and need expert help with their fitness plan. Let our highly trained and experienced exercise physiologist help you set goals, teach you how to use fitness equipment, motivate you to attain your goals, and support your ongoing efforts to stay at your desired weight. Our state-of-the-art exercise facility offers you and like-minded exercisers a clean and spacious environment. Working out with others who are committed to weight loss creates a true sense of camaraderie and a no-judgment zone.
Related Pages: