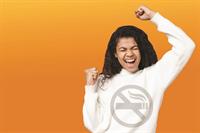 That's it! Learn to Quit! Free Smoking Cessation Program
That's It! Learn to Quit! is a 4-week behavioral change program designed to help any tobacco/nicotine user, including those who may be unsure about wanting to quit, to specifically address ambivalence about quitting.
Participants will learn techniques and obtain resources on how to stop smoking. Facilitators assist participants in creating a quit plan and provide the necessary tools in managing smoking triggers. Educational materials, small group sessions and a supportive environment provides a welcoming space to learn the skills to help you quit smoking. Find comfort in coming together with like-minded individuals enduring their own attempts to quit; satisfaction ratings are over 98%. All ex-smokers also welcome if looking for support to stay quit.
This session will meet Mondays, June 5, 12, 19, and 26 from 4:30-5:30 p.m. at The Center for Cancer Care at Griffin Hospital, 350 Seymour Ave., Derby.
To register or for more information contact The Griffin Center for Healthy Living Coordinator at 203-732-1369.
Event Phone Number: The Griffin Center for Healthy Living Coordinator at 203-732-1369
Event Locations The Center for Cancer Care at Griffin Hospital