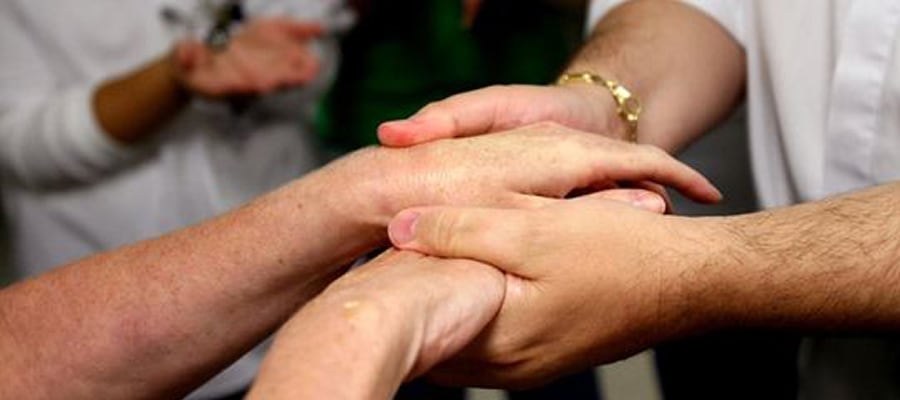 Meeting needs through spiritual support.
Griffin believes it is important to meet the spiritual needs of patients, families and staff. Spirituality is a key component of our Planetree model of care. Through spirituality, we assist a person in connecting to whatever inner resources provide them comfort, support and meaning. Spirituality is about:
Caring for the soul
Strengthening the heart
Discovering meaning
Experiencing sorrow
Celebrating life
Recognizing, affirming and celebrating what brings you peace.
Griffin offers you and your loved ones the following spiritual services through the Spiritual Care and Education Department:
Chaplains
Chaplains are available 24/7 to respond to patients, families and visitors who request it, or whom staff feels are in need of support. Chaplains are here to:
Invite people to tell their stories

Offer guided meditation for relaxation.

Explore spiritual needs and strengths to create balance,

Connect people to inner resources,

Offer prayer and meditations

Offer guidance and presence in the search for meaning, comfort, strength and hope,

Provide space and time to reflect on personal beliefs, thoughts, relationships and life choices,
If a Chaplain is needed immediately, please ask your nurse or staff member to page the Chaplain on-call.
Guided Meditation
Guided meditation is always available for any patient who requests it or if a nurse feels it would be helpful for a patient who is anxious, upset or in need of relaxation. You may contact a Chaplain to provide this service.
The Interfaith Chapel is always open
Griffin Hospital's Interfaith Chapel is always open and located on the first floor of Griffin Hospital's east wing. It is for all patients, families, visitors and staff who wish to have a quiet moment to pray or meditate. Morning meditation is available.
Center for Cancer Care Chapel
An additional chapel is located in the main lobby of the Center for Cancer Care.
We're here when you need us
The Spiritual Care department supports patients and family in all spiritual aspects of care and healing. This includes considering the complexities of end-of-life issues and planning such as Griffin Hospital's Advance Care Planning initiative, support of religious beliefs, and practices and exploration of spiritual resources. We can provide connections to community resources as well.
To speak or meet with a chaplain, please contact The Rev. Eric Jeuland, MDiv, BCC, Director of Spiritual Care and Education, at ejeuland@griffinhealth.org or call 203-732-1100 or a staff chaplain at (203) 732-1126. Please ask staff to page the on-call chaplain for an immediate need.
Services
Bereavement Support Groups
Bereavement support group meetings provide grief education and support and are open to anyone who has experienced the loss of a loved one.
Clinical Pastoral Education
Accredited by The Association for Clinical Pastoral Education, Inc.