Griffin Hospital
(203) 735-7421 or (800) 354-3094
130 Division Street,
Derby, New Haven County, CT 06418-1326
Get Directions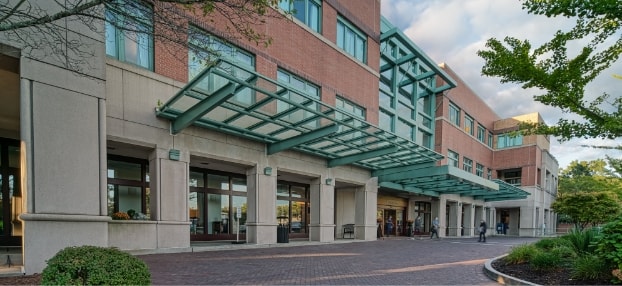 At This Location:
Cardiology Associates of Derby

Comprehensive Pain & Headache Treatment Center

Griffin Bariatrics

(203) 732-7108 or (888) 657-9252
No one likes coming to the hospital. But when hospital care is required, isn't it nice to know you have Griffin Hospital to turn to? With our Planetree Person-Centered care model, our beautiful healing environment, and award-winning clinical excellence, Griffin offers you and your family everything you need to get and stay healthy.
Griffin Hospital is a 160-bed acute care community hospital serving more than 130,000 residents of the Lower Naugatuck Valley Region. Griffin Hospital also serves as the flagship hospital for Planetree, an international leader in person-centered care and has received national recognition for creating a facility and approach to patient care that is responsive to the needs of patients.
Many healthcare facilities around the world send visitors to Griffin Hospital and incorporate its concepts into their healthcare models. Griffin Hospital is a not-for-profit, tax-exempt subsidiary of the Griffin Health Services Corporation.
Affiliated with the Yale School of Medicine, The Frank H. Netter MD School of Medicine at Quinnipiac University, and accredited by The Joint Commission, Griffin Hospital has more than 300 active and courtesy physicians who have admitting privileges.
Griffin Hospital is recognized for having industry-leading patient satisfaction ratings and has received numerous quality and clinical excellence awards. It is the only hospital to be named to FORTUNE Magazine's "100 Best Companies to Work For" list for ten consecutive years, and was the only Connecticut hospital to be recognized three times by the Joint Commission as a "Top Quality Performer" on key quality measures.
View all Griffin Hospital's awards, recognition and accreditations.
Parking & Transportation
Parking at Griffin Hospital is free.
Our main parking lot is located in front of the hospital main entrance and a second lot is available next to the hospital on Seymour Avenue. Additional parking is located down the street at the Center for Cancer Care. Parking for the Emergency Department is located at the Emergency entrance.
Valet Parking
Valet parking is available between 6:00 AM and 5:00 PM at the main entrance. Valet parking is free for patients and their escorts.
Handicapped Parking
Handicapped parking is available directly in front of the hospital.
Directions to Griffin Hospital
Public Transportation
Taxi Service
Valley Cab Co.
(203) 732-8294